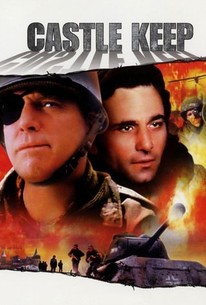 Castle Keep
1969, War, 1h 46m
8 Reviews
1,000+ Ratings
Where to watch
Rent/buy
Rent/buy
Rent/buy
Rate And Review
Movie Info
A one-eyed World War II Army major (Burt Lancaster) and his men occupy a Belgian count's (Jean-Pierre Aumont) castle open to a German attack.
Audience Reviews for Castle Keep
A well done, and underestimated early effort from Sydney Pollack, that is a stark depiction of the American soldier at war. Although the setting is Belgium during World War II it is assumed that Vietnam was the war on Pollacks mind while makig this film. 8 soldiers are sent away from the frontline to defend a 10th century castle from destruction at the hands of the Germans. None of these men really fit into the stereotype of fearless and patriotic soldiers, that was so common of war movies of the era (keep i mind that this was 10 years before Apocalpse Now.) Rather than being a film about war it seems to be a film about soldiers, their fears, their desires, their dreams etc. Only Major Falconer (Burt Lancaster) displays the characeristics of the 'war hero' here who will never surrender or retreat to the Germans. The res tof the men spend their time doing various things (going to a local whore house, baking bread, appreciating the art in the castle, playing music etc.) There is also sme effective, if a little heavy handed imager throughout this first half of the film as well. The second half is a very violent showdown between the American's and the German's. A battle to the death for this territory. The battle scenes are very well done and kept me on the edge of my seat throughout. This film does have it's flaws. It feels uneven in terms of story, the artsier elements also get in the way of the message the film was trying to communicate, there were also some historical innaccurasies (not that big of a deal really, didn't affect my enjoyment of the film at all) that might bother history buffs. But at the end of the day this is a very enjoyable and unique war film that was way ahead of it's time. The dialouge is very amusing throughout, Henri Decae's cinematography was top notch, there is frequent Catch 22esque dark humour moments and the acting was all very good. Recommended if your looking for a different kind of war film.

A highly satirical and bizarre WWII film. The American soldiers or misfits are comprised of every stereotype (cowboy, indian, black, knight, etc). My personal favorite is when the cowboy falls in love with a Volkswagen. The film is far from cohesive, but it is well executed and entertaining.
See Details