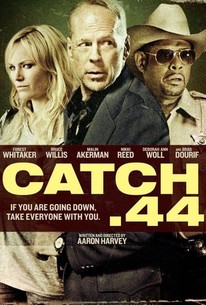 Catch .44
2011, Mystery & thriller, 1h 34m
3 Reviews
1,000+ Ratings
Where to watch
Rent/buy
Rent/buy
Rate And Review
Movie Info
The plan of three women (Malin Akerman, Nikki Reed, Deborah Ann Woll) to intercept a drug shipment for their boss (Bruce Willis) goes horribly wrong.
Audience Reviews for Catch .44
An unholy mess of a movie that puts a lot of good actors to waste. By the time the climactic, but drawn-out, ending comes around, it really doesn't matter who ends up walking away.

Tries so desperately to emulate Pulp Fiction, that it's hard to say if Catch .44 would have been any good if it just tried to blaze its own trail. Seeing as it didn't, this is the movie we have: One that falls just short of "Okay".

Filmed in a noir style, Catch .44 is a gritty crime drama. Using nonlinear storytelling, the film follows a drug heist that goes wrong and how each character arrived at the heist. Starring Malin Akerman, Nikki Reed, Forest Whitaker, and Bruce Willis, the film has some solid talent. The story is rather interesting and has a number of twists and reveals that add to the suspense and mystery. Still, some aspects of the film don't work; the dialog in particular is weak and uneven. While there are some significant flaws, Catch .44 delivers exciting action and an intriguing story.

Odd title but familiar film with Willis taking part in another Tarantino-ish outing that does leave you feeling somewhat disappointed. When I say Tarantino-ish I mean the plot is basically cut up and all over the show. We start at the end and work backwards with flashbacks aplenty to find out what happens. Thing is we never really discover the whole point behind most of it (only some characters) and frankly I didn't much care either. The plot revolves around a trio of women (terrible casting and boring performances) whom I'm guessing are suppose to be sexy drug dealing associates of Willis (epic fail there). They are to wait in a diner and pick up a shipment but they are setup and everything goes tits up (yawn!). The problem is these characters aren't developed in any way and don't last too long either, so you aren't given the chance to like them and simply aren't bothered when the shit hits the fan. The other characters are a mixed bunch that include Willis who is badly miscast as a drug dealing kingpin, Whitaker as a associate of Willis, acts well as usual but has this really annoying Spanish accent (I think it was Spanish) and Dourif in a cameo really. He isn't really important in any way, no point him even being there. The setup and shootout that happens at the start (which is the end) is the best part. When you see it you wanna know what happens next but instead you are fed about 1h 20mins of flashbacks showing what happened before and how it all led up to the shootout, which isn't very interesting. So in short the finale stand off is the best bit where as the rest of the film is uninspired and dull with drab acting.
See Details