Cautiva
(2006)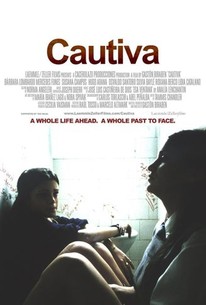 Movie Info
The film tells the story of Cristina, a typical Argentine teenager. Her life is suddenly uprooted when she is plucked out of class at the summons of a judge and the couple she knows as her parents are revealed to not be so. In the early '80s, her biological parents were "disappeared" for criticizing the military junta which had taken power in a coup. Surviving relatives of her biological parents, including Cristina's grandmother, have spent years trying to track down the child. Ordered to now live with her biological family since her adoption--or appropriation, as it is chillingly called--had no legal basis, Cristina begins an investigation of her own in order to find out the truth.
News & Interviews for Cautiva
Critic Reviews for Cautiva
Audience Reviews for Cautiva
[font=Century Gothic]In "Cautiva," it is 1994 and Cristina(Barbara Lombardo) has just turned 15. She is a nautrally curious teenager in Argentina, living on the outskirts of Buenos Aires with her parents(Osvaldo Santoro & Silvia Bayle) and attending Catholic school. All of that changes when she is pulled out of school one day and brought to the office of Judge Barrenechea(Hugo Arana) who calmly informs her that everything she has known is a lie and that her real parents were a pair of architecture students who were disappeared by the military junta. And in the process, he introduces Cristina to her real grandmother(Susana Campos). In response, Cristina makes a break for it...[/font] [font=Century Gothic][/font] [font=Century Gothic]"Cautiva" is a very compelling movie whose only major fault is an inexplicable scene. In normal circumstances, we can presume that adoptive parents may have a stronger bond with their children than their blood relations who gave them up. But in Argentina, where babies were taken from their parents during the military dictatorship between 1976 and 1983, the right thing to do is to reunite them with their original families.(Contrary to what a schoolmate of Cristina's thinks, something is being done to right the old wrongs.) In the end, Cristina is not only questioning her identity but also the identity and history of her country which up to this point she had been kept largely ignorant of. See, the personal is the political. [/font] [font=Century Gothic][/font] [font=Century Gothic]By the way, are their any human rights abuses that Henry Kissinger has not had a connection with?[/font]
Cautiva Quotes
There are no approved quotes yet for this movie.