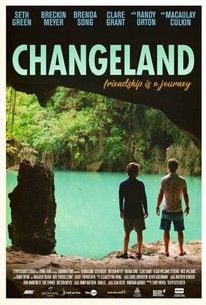 Changeland
2019, Comedy/Drama
9 Reviews
100+ Ratings
Where to watch
Rent/buy
Subscription
Subscription
Rent/buy
Rate And Review
Movie Info
A man meets up with his best friend in Thailand while going through a personal crisis.
Audience Reviews for Changeland
Independent cinema is as equally reliable as mainstream Hollywood content these days, as smaller, simpler films cam be far better than the ones that large studios are throwing money at. It also impresses me when a known actor/actress takes the director's chair and tries their hand at a smaller film than they're used to. In the case of Olivia Wilde's Booksmart, that small film is one of the best that 2019 has had to offer so far. We're not here to talk about that film though. Seth Green has decided to break onto the scene with his directorial debut in Changeland, and at the very least, I'll be giving this one an honourable mention when the year comes to a close. For all its simplicity, here's why I think Changeland is worth your time. Following Brandon (Seth Green) as he has been planning a surprise trip for he and his wife, marital issues have him taking this trip alone. Having his friend Dan (Breckin Meyer) take her place, it becomes a bonding film between two friends who haven't seen each other in quite some time. Learning life lessons and just simply letting the trip be an escape from their everyday lives, Changeland isn't much of a film in retrospect, but more of a period of time spent with two characters. That's not a negative in the slightest, because one of my favourite films of all time happens to be Before Sunrise, which is exactly the same type of movie. It's the dialogue that drives films like this and I believe that was a strong point here. Not only did Seth Green helm the movie as its director, but it was his film from the start, having written the screenplay as well. While I'm not sure how close this core character is to Seth Green in real life, it felt authentic and the lines spoken between characters felt real, for the most part. There are a few lines throughout the film that probably could've been edited out, but I loved listening to the interaction between pretty much any and all characters here. Where I think this film probably feels the weakest is in the assembly of it all. The music throughout the movie felt less like a scene enhancer and more like an easy way to transition these characters from place to place. There were a few instances where I found myself scratching my head as to why a pop song was beginning to play, but as I said, everything surrounding these technical aspects was great, in my opinion. I usually don't like saying this, as I am an aspiring filmmaker myself, but there are definitely moments when you can tell this is someones first kick at the can in terms of directing a feature film. In the end, from the great characters to the overall calm nature of Changeland, I found myself loving nearly every second of it. It has a few issues in how it's put together, but this is a harmless story that really sucked me in. If for nothing else, this is the type of movie that interests me in general, so I may be a little biased towards it. I definitely recommend Changeland. It's now streaming on demand and in select theatres.
See Details