The Chaser (Chugyeogja)
(2008)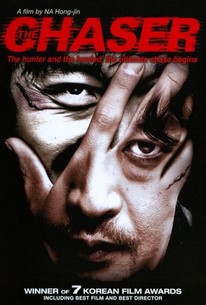 The Chaser (Chugyeogja) Photos
Movie Info
An ex-policeman-turned-street-smart pimp attempts to capture the elusive serial killer who has been preying on his girls in this stylish South Koran thriller from first-time feature filmmaker Na Hong-jin. Jung-ho is a former cop who now operates on the other side of the law. When his girls start disappearing without clearing their debts, Jung-ho rightly begins to suspect foul play. Shortly thereafter, Jung-ho receives a call for a girl and dispatches Mi-jin -- recognizing all too late that his latest customer's telephone number exactly matches that of the man who hired the last prostitute that went missing. His detective's instincts now kicking into full gear, Jung-ho races desperately through the streets in search of Mi-jin. After denting a car in a dark ally, the eagle-eyed pimp notices that the driver of the car he collided with is wearing a blood-spattered shirt. Jung-ho gives chase, eventually catching the man and discovering that his name is Young-min. Later, at the police station, Young-min admits that he is indeed the killer that police have been searching for, and that Mi-jin is quite possibly still alive. Though the police aren't convinced that there is any hope for Mi-jin, given the number of corpses popping up around town as of late, Jung-ho believes that Young-min is telling the truth. The law states that the police can only hold the suspected serial killer for 12 hours, but is that enough time for Jung-ho to rescue Mi-jin and prove Young-min's guilt?
News & Interviews for The Chaser (Chugyeogja)
Critic Reviews for The Chaser (Chugyeogja)
Audience Reviews for The Chaser (Chugyeogja)
A surprising and intelligent Korean serial killer thriller that defies the viewer's expectations at every turn and combines taut suspense with black humor to insert an unlikely (anti-)hero in a completely unpredictable plot and hold the audience by the throat.
Carlos Magalhães
Super Reviewer
½
Well.....That was a molotov cocktail of a noir film. Truly blew me away with its absurd plot and dark characters. You really can't find something this special in american cinema. Its a film that can grabs you at first frame and never lets go.
½
An ex-cop fired for corruption now working as a pimp investigates when his girls start to go missing, leading him to a serial killer who is holding one of them hostage. The Chaser is not really what I was expecting. I was hoping for a kind of serial killer version of Heat but rather than a charismatic criminal mastermind like a Hannibal Lecter, the villain here is just a nasty, sadistic little scumbag. He is also caught very early on in the film and spends much of it in custody as our "hero" tries to track down the missing girl before he is released for lack of evidence, which kind of dispenses with the mystery aspect of the story as well. For these reasons the film skirts a little too close to torture porn for my tastes and so it didn't appeal to me as much as it might have. On the plus side, it is a very well made film with solid performances all round, nice photography and skilled direction which makes for a quality thriller that will be worth a look for those interested in the serial killer genre. I was just hoping for a little more.
The Chaser (Chugyeogja) Quotes
There are no approved quotes yet for this movie.