Chasing 3000
(2008)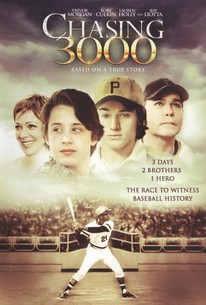 AUDIENCE SCORE
Critic Consensus: No consensus yet.
Movie Info
As the 1972 baseball season draws to a close and star player Roberto Clemente prepares to knock hit number 3,000 out of the park, two brothers -- one of whom is afflicted with muscular dystrophy -- make the drive from Los Angeles to Pittsburgh in hopes of witnessing sports history in the making. Based on a true story, Chasing 3000 is directed by Gregory J. Lanesey and features Ray Liotta.
Critic Reviews for Chasing 3000
Audience Reviews for Chasing 3000
½
Often times sports can bring out the best and the worst in people, but the majority of those stories take place on the field of play. Everything that happens is centered around the game, and rightfully so, that's where the cameras are focused, but once in a while, a story comes along that takes the focus off the field, Chasing 3000 is one such story. In the summer of 1972, Roberto Clemente is 6 hits away from reaching 3000 hits, but brothers Mickey and Roger are stuck in Southern California. Roger's (Rory Culkin) muscular dystrophy has forced the family to relocate, leaving the boys 3000 miles away from their favorite baseball player, but Mickey (Trevor Morgan) has no intention of it preventing him from witnessing history. One weekend when their mother goes away on business, the boys decide to steal her car and make the journey back home, to Pittsburgh. Despite this being a true story, with the cast they have, I feared that this movie would be some lame farce, but it surprised me by being genuine and heartwarming. The truth is that Mickey seemed to always resent his brother, until they went on the trip, and he realized just how a like they really are. Trevor Morgan stars and while I usually don't like the roles he chooses, but he is a very solid young lead. Morgan was good, but it's Rory Culkin who steals the show, playing the hopelessly ill younger brother, who at heart is every bit the wild teenager that his brother is. Along the way, the boys meet a whole cast of unusual characters portrayed in cameos by some people you'd never expect to see in an independent film. As I've said a million times, depth of cast always helps a film along, especially an independent drama. A lot of people will be turned off by the fact that this film centers around a historic sports achievement, but this is by no means a film about sports, and should appeal to large audiences.
Todd Smith
Super Reviewer
Cast: Trevor Morgan, Rory Culkin, Ray Liotta, Lauren Holly, Tania Raymonde, M. Emmet Walsh, Seymour Cassel, Ricardo Chavira, Michael O'Keefe, Lori Petty, Willa Holland, Keith David Director: Gregory J. Lanesey Summary: Determined to see Pittsburgh Pirates right fielder Roberto Clemente get his 3,000th hit, recently uprooted Pennsylvania brothers Mickey (Trevor Morgan) and Roger (Rory Culkin) make an unauthorized cross-country trek from Los Angeles to Three Rivers Stadium. The fact that Roger has muscular dystrophy is daunting ... but it's hardly a deterrent. My Thoughts: "The film itself is touching, seeing two brothers who care for each other so much. Roger has a disease that is suppose to take his life before graduation, but he's such a fighter. Mickey is the older brother who is feeling very much alone and invisible by his mother. When they have to move to L.A. for Roger so he can get better medical help, Mickey becomes very angry that his voice isn't being heard, for he doesn't want to move away from his home town, or his favorite Baseball team. Roger, seeing this change in Mickey, longs to reconnect with his brother again and hopes tagging along on his brothers road-trip will bring back the relationship they had before they moved. But after realizing Roger has forgotten his medicine many miles too late puts their trip and Roger's life in jeopardy. I always love a good road-trip flick, and it was a bonus that is was based on a true story."
♥˩ƳИИ ƜѲѲƉƧ♥
Super Reviewer
Chasing 3000 Quotes
There are no approved quotes yet for this movie.