Trasgredire (Cheeky) (Transgressions)
(2000)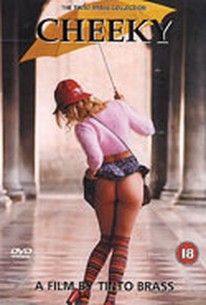 AUDIENCE SCORE
Critic Consensus: No consensus yet.
Trasgredire (Cheeky) (Transgressions) Photos
Movie Info
Italian smutmeister Tinto Brass directs this erotic drama which offers this dubious assertion -- a couple that sleeps around ends up loving each other more. While scouting out apartments in London for her Venetian boyfriend, bubbly Carla (Yuliya Mayarchuk) rents an apartment that overlooks the Thames. She also gets jumped by hyper-horny real estate agent Moira (Francesca Nunzi), and the two shag, shag and shag again in increasingly perverse ways. When boyfriend Matteo (Jarno Berardi) shows up, the kinky hijinks really begin. ~ Jonathan Crow, Rovi
Critic Reviews for Trasgredire (Cheeky) (Transgressions)
Audience Reviews for Trasgredire (Cheeky) (Transgressions)
½
Cheeky is actually a much better film than most of the crappy softcore porn stuff out there. It's directed by Tinto Brass; the same director who gave us "Saloon Kitty", a film that I've been meaning to see for ages and have never got round to, in spite of the fact that I have a copy. Anyway, for most of this film the camera focuses on Yuliya Mayarchuk's backside, but it's a nice backside so that isn't really a flaw. Yuliya Mayarchuk and her backside take the lead role, and she stars as a girl named Carla; who is on the lookout for some flats, right near a park filled with perverts and horny couples. She goes to an estate agent and meets a sexy woman named Moira, who wants her. She rents a large apartment and Moira gets her own way, and this causes trouble as Carla is in a relationship with a young man named Matteo. Naturally, Matteo is none too pleased with the way that his girl parades her assets all around town. He comes to London, and the pair has an argument over the pictures that he found in Carla's bedroom. How much you like this film will largely depend on exactly what you want to get out of movies. If you're looking for something deep and meaningful, don't see Cheeky - but if you just want some cheap and cheerful softcore porn, then this could be for you. There's plenty of nudity, and the leading lady's body gets completely exposed on numerous occasions. There is a lesbian subplot, which is always nice to see and the scenes between the women are actually quite well done. The fact that they're both really hot helps a lot. There are also some regular sex scenes, and plenty of teasing and general nudity. It's all extremely light-hearted; there's plenty of scenes that see the lead in a flimsy short skirt which is being blown about by the wind, and if you ask me; that sort of stuff pretty much sums this film up. It's always obvious where the plot is going - usually another sex scene - so there's not a lot of surprises. There's a couple of scenes that take place to music which are decent, and that's pretty much all I have to say about this one.
Cassandra Maples
Super Reviewer
Trasgredire (Cheeky) (Transgressions) Quotes
There are no approved quotes yet for this movie.