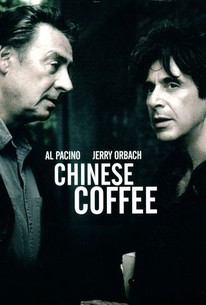 Chinese Coffee
2000, Drama, 1h 39m
1 Reviews
1,000+ Ratings
Rate And Review
Movie Info
Harry Levine (Al Pacino) is an aging author in Greenwich Village who fears that his best days might be behind him. Though he saw moderate success in the past, he's currently unemployed after losing his job as a restaurant doorman. When he calls his friend Jake Manheim (Jerry Orbach) to collect a debt, he also shares his latest manuscript, a story about Levine and Manheim's friendship, which leads to the re-opening of old, still unresolved wounds.
Audience Reviews for Chinese Coffee
Al Pacino added flashbacks to the original play's script in order to break up the constant stream of dialogue, and in the special features, Pacino wonders if they're too much. They are because nothing significant happens during them, and the same can be said about the film's main action. So little happens in the one-on-one interplay that it fails to compel ... until the end. Pacino's final monologue almost makes it worth the wait. The film centers on artists, and I suspect that its audience is limited to the people it concerns. Despite its obvious flaws, being in this group and having experienced an utter lack of money to keep me going, I enjoyed many parts of this film's action. Pacino and Orbach are fantastic, but they would've been even better if the film had a little more meat and raised the stakes of the conflict.

Interesting play on film by director and star Pacino. It's good to see Pacino do interesting work like this instead of his usual "Now where is my paycheck?" films. A good companion piece with Looking For Richard for the arty crowd.

Al Pacino isn't a director, and he doesn't propose to be, but this is a terrific little film and I'm very glad that I got the opportunity to finally see it. The acting is great, and the source play is beautifully written. There's a sense of personal connection, both with the writer and the actors, and the result is a thoroughly convincing character study.
See Details