Chushingura
(1963)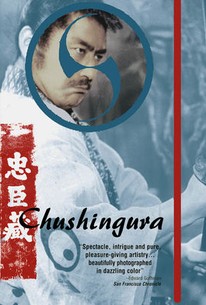 AUDIENCE SCORE
Critic Consensus: No consensus yet.
Movie Info
This sweeping historical epic has sometimes been labelled the Gone with the Wind of Japan; at any rate, it's almost the same length as Gone (the film was originally released in two parts). Chusha Ichikawa plays a powerful and ruthless feudal lord who battles virtuous young noble Yuzo Kayama. Ichikawa is temporarily victorious when he tricks Kayama into committing Hara Kiri. Vengeance is meted out by Kayama's forty-seven samurai retainers. Based on a venerable Japanese legend, the story of Chushingura has been filmed several times, but only the 1941 version (47 Ronin) matched the grandeur of director Hiroshi Inagaki's 1962 version. In some English-speaking countries, Chushingura has been released in a shorter version titled The Loyal 47 Ronin. ~ Hal Erickson, Rovi
Critic Reviews for Chushingura
There are no critic reviews yet for Chushingura. Keep checking Rotten Tomatoes for updates!
Audience Reviews for Chushingura
½
Sometimes labled as The Gone with the Wind of here but it's still a solid Samurai flick. I liked this one despite some of the mixed review...Slow yeah most times but i got past that. Some very good acting and narration. Some wicked fight scenes and ECT. Nice costumes and music and landscapes... It's a good film overlooked and a suggestion for any fans of cinema here and mostly samurai.
Chushingura is just one of the many adaptations of quite possibly, Japan's most famous story. It's a complex and involving tale in terms of plot, character and themes. Most samurai films deal with honour and bushido, but this really takes it to a new level. After their lord is made to commit seppuku, a group of samurai (now Ronin) begin work on a complex plot to avenge their lord. Rather than charge in, swords blazing, they wait for over a year. Thus, making their enemies believe that revenge will not come. The film is 3 and a half hours long and crams in a lot of information. It will certainly take more than one viewing. The film has wonderful touches of emotion. As a lord learns of the death of a close friend, he asks his performers to put on a play. Some children notice he is crying and we are treated to a wonderful moment where he splashes water on his eyes to explain the tears without losing face. The action is rare and very spaced out. Like the Ronin themselves, you will need a lot of patience and respect.
Luke Baldock
Super Reviewer
this film is 3 and a half hours. it basically breaks into 2 halves, before the intermission is story and character development, after the intermission is the unfolding of the mission. based on a true story and one of the most famous instances in japanese history, this film tells the story of the 47 samurai who defied the shogunate to avenge the death of their master. character development is usually my favorite part of a movie, but in this film they over did it. there was too much development even for my taste. having said that, by the end of this film you cant say that they didnt tell you the whole story. there is zero action until the very end when the film climaxes in a huge fight scene, but it was worth the wait. the fight scene was brilliantly coreographed and the action was unmissable. getting through the over the top story telling was well worth it with the huge pay off at the end of one of the better fight scenes ive seen in a samurai film. when the film is over, the extensive story telling didnt bother me, although it was a bit much, it served me better having known so much about the characters. i felt invested. this was a great film that is worth the lengthy time it took to watch it. tashiro mifune was also good in this film but i was suprised at how small his role was. at the time this film was made mifune was already a big star and he had very little screen time, but he was good as usual. a great samurai film.
Chushingura Quotes
There are no approved quotes yet for this movie.