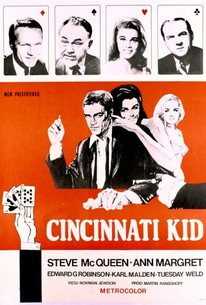 The Cincinnati Kid
1965, Drama, 1h 53m
22 Reviews
5,000+ Ratings
Where to watch
Rent/buy
Rent/buy
Subscription
Rent/buy
Rate And Review
The Cincinnati Kid Photos
Movie Info
Young poker player Eric Stoner (Steve McQueen), also known as the "Cincinnati Kid," wants to build his reputation by beating the best player around, Lancey "The Man" Howard (Edward G. Robinson). Through Stoner's friend, "Shooter" (Karl Malden), a game with Howard is scheduled. However, Stoner discovers the game is being fixed against Howard by Slade (Rip Torn) out of revenge for a bad loss he suffered to Howard. Stoner objects because he feels he can take the match on his own merits.
Audience Reviews for The Cincinnati Kid
Steve McQueen is the young upstart poker player, Edward G. Robinson an old master, Karl Malden is their friend and dealer, Ann Margret his flirtatious girlfriend, and Tuesday Weld is McQueen's. It's a fantastic cast - McQueen oozes cool, it's special to see Robinson at age 72 deliver a very good performance, Malden plays 'conflicted' well when he's pressured to fix the match, Margret is sexy and has a way of speaking with her eyes, and Weld is incredibly cute but also nuanced. To top it off, Joan Blondell is the backup dealer, and while her role and performance aren't amazing, it's very nice to see her and Robinson together again nearly three decades after 1936's 'Bullets or Ballots'. New Orleans is a fantastic setting and director Norman Jewison makes good use of it. I have to say, I was not all that jazzed about the scene with the cock fight, which is cruel. And, he's less effective in making the movie feel as though it's in the 1930's, but maybe that doesn't matter. The poker talk at the tables is pretty authentic, but I always find it amusing that the 5-card stud hands shown routinely in movies are extremely rare. The ending comes as a jolt and seems abrupt, but perhaps that's because I was thinking how interesting it would have been if it was revealed that Robinson was engaged in a nefarious fix with Blondell. As it is, the movie is about integrity and dignity, even in what may seem to be an unlikely place, amongst gamblers. Cheating, and accusations of cheating, are shown more than once to be signs of weakness, whereas real skill is cool and confident, and there is mutual respect between McQueen and Robinson's characters. How interesting that McQueen falters on the relationship side by being seduced by Margret, though even then he doesn't deny it or make excuses. It may be a little clichéd and it may have borrowed its theme from 'The Hustler', but it's an engaging, interesting film.

A little bit o'fun as McQueen leads a pretty gosh darn good cast in this typical tale of the kid against the powers that be. Eddie G.'s that power, the Man, the guy who's on top of the stud poker game and Stevie's set to take him down. Malden's good as the buddy, Weld as the good girl, and Margret as, what else, the bad girl, surprise.

What a classic! Right up there with "The Hustler" and "The Sting"..

Good simple film about poker. It's great fun to watch McQueen and Edward G. play off each other. Nothing groundbreaking, but very entertaing with a great ending.
See Details