Cinemania
(2002)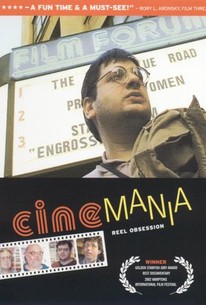 Movie Info
Angela Christlieb and Stephen Kijak direct the documentary Cinemania, concerning five individual New Yorkers with self-styled movie obsessions that border on the psychotic. Living on disability is Eric Chadbourne, who is an obsessive collector as well as viewer; Harvey Schwartz, who has memorized countless amounts factual data like movie running times; and Roberta Hill, who is such an aggressive audience member that she has been kicked out of several theaters. Unemployed and living in denial, Bill Heidbreder is into European art films to a serious degree, while the somewhat self-aware Jack Angstreich lives off of an inheritance and claims to keep a schedule of watching five movies a day. The conclusion appropriately features the five subjects screening a rough cut of the documentary and offering their comments. Shot on digital video, Cinemania contains a cinema-themed soundtrack provided by witty French indie pop band Stereo Total.
Critic Reviews for Cinemania
Audience Reviews for Cinemania
This film means I no longer feel bad about how many films I watch. It's a rather depressing tale about how far obsessions really can go, but also how they can comfort those with mental disorders. Clearly there's some debate as to what is normal. The people themselves justify their actions by saying that normal is just what everybody else is like, and who wants to be like everyone else. While this is certainly true, there are limits. They live on the cheap, have very few social skills, and even plan their diets to make sure their bathroom stops are predictable. There are some genuinely sad moments, such as Roberta's reaction to being comforted about the horses dying. She seems genuinely taken aback and devastated when she is told "They weren't really hurt, it's just a movie." "Why would you say that?" comes her response "You can't suspend disbelief for everything else and not that.". We also hear testimony about her physically attacking a woman that tore her ticket stub. When it reaches a point that dreams are films and nightmares are on video, and saying that sex with real people would be disappointing because it wouldn't be in black and white, it all gets a bit sad. Cinema should be an escape from life, these people need a life to escape cinema.
Luke Baldock
Super Reviewer
½
Documentary about five film-watching obsessives and their lives (or lack of). Interesting, as it usually is to hear people talk about their passions, but also, as it usually is when people can only talk about one thing, slightly dull.
A documentary about five obsessive New York film buffs. And these are some strange people, folks. They all view as many as a half-dozen films a day -- EVERY DAY -- in various theatres around the city. Three are on disability for various mental health issues (I'm guessing OCD), one is well-educated but collects unemployment because a real job would interfere with his film schedule, one inherited money and spends it all on movies and prostitutes. They are hoarders and collectors of every type of film memorabilia, some keep elaborate databases of the film schedules in town and of all the films they've seen (ring a bell with anybody?)...one man even eats a somewhat constipating diet -- very little fiber or vegetables -- so he isn't inconvenienced by a bathroom trip during a film. Roberta -- the only female of the group -- has been known for fight with ticket takers if they DARE tear her ticket stub, and has been banned from at least one theatre for her behavior. One claims to have seen 1000 films in a month once, but that is mathematically impossible...at least I THINK it is. We all believe we are the World's Greatest Film Buff, but how many of us have the direct phone numbers to the projection booth on our cell phones, AND know the projectionist by name? Some of these people do. This thing hit close enough to home for me a couple times that I found myself kinda squinching down in my chair, and being glad I was watching it alone. Not that I AM anywhere near this obsessive, but I could IMAGINE myself becoming this obsessive.
Cinemania Quotes
There are no approved quotes yet for this movie.