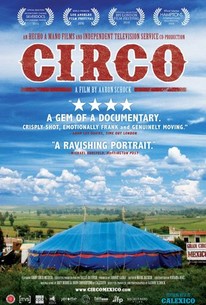 Circo
2010, Documentary, 1h 15m
26 Reviews
500+ Ratings
Rate And Review
Movie Info
Throughout the world, the circus is an old-fashioned form of entertainment that's slowly fading away, and in Mexico, the situation is no different. The Ponces, captained by lead manager and ringmaster Tino, struggle to bring in the crowds and keep their generations-old family business going strong. Compounding this challenge is a weakened economy, particularly in the rural areas where the Ponces pitch their big tent. The soundtrack is enlivened by the music of country-rock band Calexico.
News & Interviews for Circo
Audience Reviews for Circo
Two circus movies in a row! What's next? A revival of BERSERK starring Joan Crawford? Anyhow, this one is world's apart from WATER FOR ELEPHANTS. This beautifully filmed yet dramatically hesitant documentary about a family struggling to run their traveling circus through the small towns of Mexico plays more like a melancholy tone poem. We are so used to DRAMA DRAMA DRAMA in our documentaries anymore, that it's easy to criticize this film for leaving a lot of it offscreen. Instead, we just watch as 3 generations of a family sacrifice education, running water, and all luxurious amenities to keep their business alive. There's a warmth at play here, especially in the vibrant colors and stunning photography, but I was left with some indelibly heartbreaking images, such as a little girl crying as she is forced by her grandparents to keep practicing backflips oryoung kids erecting the circus tents day in and day out. I was left with many questions. Too many in fact. What are the child labor laws like in Mexico? How many people actually work at this circus? Is it just the family? Because we pretty much see them doing everything, but it just seems so impossible. Have the kids ever been injured by the animals? And the story does get repetitive, which is somewhat the point. Regardless, there's something really moving in this brief (75 min.) film about a lost culture struggling to continue its legacy.
See Details