City by the Sea
(2002)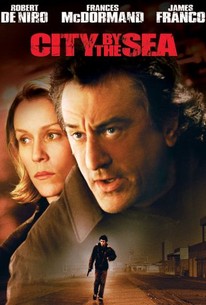 Movie Info
A man struggling to come to terms with the sins of his father makes the terrible discovery that his own son has fallen into a life of crime in a drama based on a true story. Vincent LaMarca (Robert DeNiro) is a dedicated and well-respected New York City police detective who has gone to great lengths to distance himself from his past; four decades earlier, Vincent's father Angelo killed a young child, and since then Vincent has carried emotional scars from this incident that he refuses to show to the world. Vincent lives alone in a small apartment building, though he has nurtured a close if tentative relationship with his downstairs neighbor, Michelle (Frances McDormand). One day, Vincent and his partner, Reg Duffy (George Dzundza), are assigned to investigate a murder when the body of a young man is found dead in a dumpster. It turns out the body was that of a drug dealer, and the dealer's partner in crime, Spyder (William Forsythe), believes the killer was one of his regular customers -- a junkie would-be musician who calls himself Snake (Brian Tarantina). City By the Sea was adapted from a piece by journalist Mike McAlary which first appeared in Esquire magazine; the cast also includes Eliza Dushku and Anson Mount.
People Who Like this movie also like
Critic Reviews for City by the Sea
Audience Reviews for City by the Sea
½
3 3/4's--I rather liked this for what it's worth. Not a big blockbuster movie. A little slow, but it contains some really good actors...minus William Forsythe. I cringe when I see him in movies. All in all, this was an interesting film, and it was a lot better than I had anticipated. Excellent performances by both De Niro, Franco, and Mc Dormand.
Cynthia S.
Super Reviewer
Michael Caton-Jones takes the helm for this low-key crime thriller about a veteran cop named Vincent LaMarca who becomes conflicted when he learns that the latest murder suspect he's after happens to be his estranged son Joey LaMarca, a troubled junkie. Grim, gritty, and a tad grungy, this should be a great movie. It's got nice atmosphere, a decent set up, and a cast that includes Robert De Niro, James Franco, Frances McDormand, William Forsythe, and Eliza Dushku. However, this just kinda falls flat, especially towards the end. It all starts off decently though, but the film ultimately lacks a strong amount of energy and drive, so the potential for greatness gets squandered, and the film just kinda drifts along without much purpose a lot of the time. The performances are decent, though, and I like the location shooting, but in the end, this really isn't strong enough to warrant much of a recommendation. It comes close, though.
Chris Weber
Super Reviewer
½
Vincent LaMarca: How'd we get this way son? I remember the day you were born.  Joey: Yeah? Well, I remember the day you left. So we're even.  "When you're searching for a killer... the last suspect you want to see is your son." This is a very average movie with a few great actors and a couple horrible ones. With a better bad guy, this could have been a lot better, but they went the route of William Forsythe and that hurt the movie a lot. Then they threw in Elisha Dushku as Gina and that's pretty much a death sentence for any movie. Robert De Niro, James Franco and Frances McDormand do what they can to save this film from being what it is, but it isn't enough. Vincent LaMarca is a cop who's father was executed for the murder of a baby when he was just eight years old. Now he is investigating a case of a murdered drug dealer and the prime suspect is his son, who he hasn't seen in many years. He has quite a conundrum on his hands. He has to decide how to play this thing. Then more and more things come to the surface which makes it harder and harder for Vincent to act on any impulse.  City by the Sea isn't a horrible movie only because of the three excellent actors the film has. Without them, this would have only been a laughable, cliche, and extremely dull film. With them it manages to be entertaining to an extent. Just not enough to overcome the predictable story line and some of the other performances from actors that aren't excellent. It is worth a watch if you really like De Niro or Franco. Just don't expect to be blown away by it.
Melvin White
Super Reviewer
City by the Sea Quotes
There are no approved quotes yet for this movie.