Clouds of May (Mayis Sikintisi)
(1999)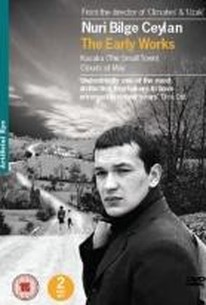 AUDIENCE SCORE
Critic Consensus: No consensus yet.
Movie Info
Turkish filmmaker Nuri Bilge Ceylan directs this subtle, minimalistic film that recalls the work of Abbas Kiarostami. Filmmaker Muzaffer (Muzaffer Ozdemir) returns from Istanbul to his hometown on the Anatolian plain to shoot a movie featuring his family. He brings a video camera to test his relatives' acting ability. His father Emin (Emin Ceylan) proves to be less interested in his son's project than in buying land from an adjacent lot. Muzaffer is helped out by his friend Saffet (Emin Toprak), who recently flunked a school entrance exam, and Saffet's young nephew Ali (Muhammed Zimbaoglu). While shooting, Muzaffer makes a deal with the little boy: if he can keep a hen's egg unbroken in his pocket for 40 days, he will win a musical watch. As Ali struggles to care for the egg, Muzzaffer works to keep his vision for the film intact. This film was screened at the 2000 Berlin Film Festival. ~ Jonathan Crow, Rovi
Critic Reviews for Clouds of May (Mayis Sikintisi)
Audience Reviews for Clouds of May (Mayis Sikintisi)
½
I heard a lot about this movie, but never had a chance to get a copy of it. Finally, 14 years later I got the movie and I enjoyed watching it. Nuri Bilge Ceylan is a director who doesn't like to waste too much, and this movie is very similar to his previous movie, Kasaba. Minimalistic in style and very raw it brings you the glimpse of real Turkish life through a story about the movie director, Muzaffer. He is going back to his hometown to make a movie using a cast of local people. Characters in this story are well developed and everyone has its own goal and doesn't seem interested in other's problems or the directions they are taking in life. Muzaffer's mother complains about simple health problems, his father is in a legal fight against the government for his land, his cousin gets out of his job to help Muzaffer who promises him to find a job in Istanbul, and his little cousin Ali tries to carry an egg in his pocket for 40 days so that he'll get the watch of his dreams. In the meantime, they get to form the cast for Muzaffer's movie as well. I have to say that Nuri Bilge Ceylan's Clouds of May is a very subtle piece of filmmaking and it explores the character relationships meticulously and those characters always feel genuine and real. The film does a great job at giving them all an emotional centre, while exploring the various dynamics that exist, but from time to time takes deep breath and I sometimes I wondered if the director forgot to take another breath because pauses became too long towards the end. Perfect photography work, with the light and shadows giving enough dramatic feel, this film deserves attention of the serious film lovers. You could really enjoy the director's feeling for landscape expressed in exquisite imagery of great emotional power and impact.
Clouds of May (Mayis Sikintisi) Quotes
There are no approved quotes yet for this movie.