Cocalero
(2007)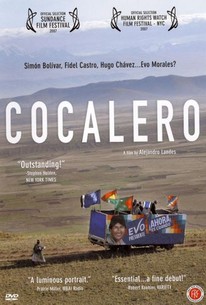 AUDIENCE SCORE
Critic Consensus: No consensus yet.
Movie Info
The determination of one unwavering socialist to stand up for his indigenous people in the face of an international crackdown on the Bolivian coca-growing regions forms the basis for this lively look at Aymara Indian Evo Morales' historic bid for the presidency of Bolivia. As the United States increasingly turned the focus of the War on Drugs towards the Bolivian coca-growing regions, the resulting efforts of the Bolivian government in eradicating coca crops had a devastating effect on the indigenous farmers -- who, as a result, would form a powerful union. It was personable and unpretentious union leader Morales who took it upon himself to stand up for the farmers whose livelihoods were now at stake, and his unassuming personality found him as comfortable drinking beer with his friends and swimming in his underwear as he was mingling with the cultural elite over talk of redistributing wealth, re-industrializing industries, and legalizing coca products. In this documentary, curious filmgoers are invited to gain greater insight than ever into both the political changes that are sweeping Latin America, and the mind of the populist platform leader whose stance on the state of his nation has resulted in unwavering praise from supporters, and venomous resistance from detractors.
Critic Reviews for Cocalero
Audience Reviews for Cocalero
½
[font=Century Gothic]"Cocalero" is an illuminating verite documentary about the 2005 Bolivian national elections, focusing on the MAS(Movement Toward Socialism)candidate Evo Morales. MAS is a coalition of several groups, all fighting against capitalism and neoliberalism, including unions, miners, the poor, indigenous and especially coca farmers(Morales was formerly one and comes off here remarkably down to earth. However, he does not swim very well...) who instead of being approached to open a dialogue are being brutally repressed under the aegis of the United States' misbegotten war on drugs.(George Carlin had a creative solution to the war on drugs, just not one I could endorse...) The documentary makes a very fine point that coca leaves are not just used for the processing of cocaine which is something that happens in the United States. In the end, the farmers prefer to handle justice amongst themselves. [/font]
Cocalero Quotes
There are no approved quotes yet for this movie.