Come Undone
(2000)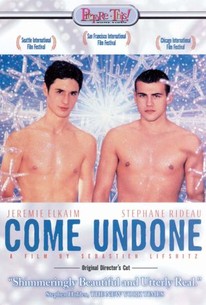 Movie Info
The third collaboration between screenwriter Stephane Bouquet and writer/director Sebastien Lifshitz, Presque Rien is the story of a young French man coming to terms with his mother's depression, and his own homosexuality, during a summer holiday in France. Delicately handsome Mathieu (Jeremie Elkaim) has come to a seaside resort town with his sisters Annick (Marie Matheron) and Sarah (Laetitia Legrix) and his mother (Dominique Reymond), who has suffered from a crippling depression ever since her newborn baby died of cancer. One day while sunning himself on the beach with Sarah, Mathieu notices the attentions of Cedric (Stephane Rideau), a sturdy, handsome, slightly older youth. The two quickly develop an illicit romance, spending their days combing the beach and their evenings slipping off for passionate sex. Cedric, it turns out, has dropped out of school and, after a brief stint as a rent boy and a failed relationship with a boy named Pierre (Nils Ohlund), moved over one town and settled into a comfortable routine of blue-collar work. The sturdy, good-natured Cedric charms Mathieu's family, but the true nature of the youths' relationship soon becomes apparent, leading to conflict, especially with oldest sibling Annick. Mathieu's biggest problem, however, is his sense of powerlessness over his mother's illness and the death in the family. The scenes of his romance with Cedric are interspersed with scenes from two later time periods. In one setting, we witness Mathieu's recovery from a suicide attempt and subsequent refusal to accept Cedric's visits; in another, we see Mathieu return, alone, to the site of his sexual coming of age. Presque Rien received its American release under the title Come Undone; after premiering at the 2001 L.A. Outfest, a gay and lesbian film series, it received a limited art-house release. Rejane Kerdaffrec, who previously appeared in the Lifschitz/Bouquet film Les Corps Ouverts, appears in a small role as Mathieu's psychiatrist.
Critic Reviews for Come Undone
Audience Reviews for Come Undone
½
The actors seem very natural together, depicting well the intensity and wonders of first love, but the movie has a big problem in its fragmented narrative, which jumps randomly between two moments in time and so the story becomes less fluid and not very easy to relate to.
Carlos Magalhães
Super Reviewer
½
Presque Rien relies heavily on the talent from the leading actors to unfold this tale of romance and pain. I really did not like the jump cuts which changed the narrative from the past to the present, seemed very inconsistent but otherwise it's a great film that many will enjoy.
Sylvester Kuo
Super Reviewer
½
I can appreciate the story that it trys to tell - a young man trying to come to terms with his sexuality (and all that it entails). The cast was exceptional. And the potential is there for a very moving and powerful film. However, with the exception of one fairly graphic sex scene (which was more gratuitous then story strengthening)...I feel that the film is (ultimately) too subtle for it's own good.
Come Undone Quotes
There are no approved quotes yet for this movie.