The Cooler
(2003)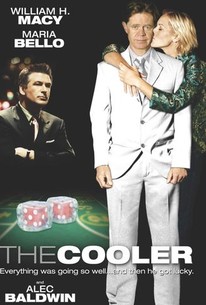 Movie Info
Writer/director Wayne Kramer offers a glimpse into the aging Las Vegas casino world with the romantic drama The Cooler. Bernie Lootz (William H. Macy) is extremely unlucky at gambling, and he owes the Shangri-La casino over 100,000 dollars. He is so unlucky that he is hired as a "cooler," someone to gamble next to high rollers and give them some of his bad luck to stop them from winning. This arrangement works out for awhile, until Bernie has almost paid off his debt and meets cocktail waitress Natalie Belisario (Maria Bello). The two start to fall in love and Bernie's luck begins to change. However, the old-fashioned mob boss Shelly Kaplow (Alec Baldwin) isn't going to let Bernie go so easily. Meanwhile, Larry Sokolov (Ron Livingston) arrives on the scene to help update the business management of the old mobster-run casino. Also starring Joey Fatone and Paul Sorvino as lounge singers. The Cooler was nominated for the Grand Jury Prize in the dramatic competition at the 2003 Sundance Film Festival.
People Who Like this movie also like
News & Interviews for The Cooler
Critic Reviews for The Cooler
Audience Reviews for The Cooler
½
In some ways, the film can be seen as a fairy tale. The protagonist is weak but at the end becomes something beyond human with the help of his muse. Beautifully shot and captures the spirit of Vegas after dark very well!
½
From co-writer/director Wayne Kramer (but not the guy from the MC5) comes this stylish, charming, and underrated little gem of a movie about a professional loser. Bernie Lootz has perpetual bad luck, so he makes his living at a Vegas casino as a cooler- the guy they send in to end a gambler's hot streak. Bernie is great at his job, but his life (and his luck) begin to change when he meets and subsequently falls in love with Natalie, an utterly gorgeous waitress co-worker. This wouldn't be so bad if this change didn't also have an effect on Shelly Kaplow, the last of the old time gangster casino owners who is trying like hell to escape the Disneyfication of Vegas and keep things from changing. Filled with a great jazzy score from Mark Isham, a new twist on an old plot, decent writing, and terrific acting from a first rate cast, this is an exceptional romantic dramedy. Well, mostly drama, since the bulk of the humor is rather dark and melancholy. Indeed, there are actually some really dark moments throughout, but it's nothing as downbeat as Leaving Las Vegas. Macy is perfect as Bernie, and his weary facial expressions and impish mannerisms really nail the type of guy Bernie is. In many ways, this character is comparable to Macy's other perfect character Jerry from Fargo. MAria Bello is quite excellent as Natalie, and this film really helped her career take off. Turning in one of his last truly menacing dramatic performances is Alec Baldwin in an Oscar nominated turn as Shelly, the no-nonsense ruthless casino boss. Ron Livingston also is good in a supporting role as an Ivy League young gun trying to put Shelly out ot pasture. This is some really great stuff. It's sometiems rather uneven with the mix of wry romance with the dark underside of Vegas poking through, but in the end it all comes full circle and ends as it should, though you do need to be cool with Deus Ex Machina type stuff in order to accept the climax. Give this one a shot. It's a shame it's not as revered as it nees to be.
Chris Weber
Super Reviewer
½
Yet another good William H. Macy movie. Very well made and well acted movie. Seems like this would really be something that casinos do.
Cynthia S.
Super Reviewer
The Cooler Quotes
| | |
| --- | --- |
| Shelly Kaplow: | This is not a movie it's my FUCKING LIFE! |
| Shelly Kaplow: | This is not a movie. It's my FUCKING LIFE! |