Copacabana
(2010)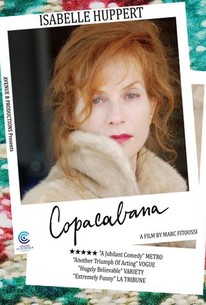 Movie Info
A middle-aged bohemian belatedly discovers the joys of capitalism in this comedy from French writer and director Marc Fitoussi. Babou (Isabelle Huppert) spent most of her twenties and thirties living a footloose lifestyle, wandering from place to place and never holding a job longer than she had to. But while this way of living agreed with Babou, her daughter Esmeralda (Lolita Chammah) never much cared for it, and now that she's in her twenties and engaged to wed Justin (Joachim Lombard), a successful salesman, she'd prefer it if Babou could finally settle down and start looking after herself. Determined to do right by her daughter, Babou lands a position selling time-shares at a condominium complex in the coastal town of Ostend. Babou doesn't know the first thing about selling real estate, but she proves to be a quick study, soon landing customers on a par with rival saleswoman Irene (Chantal Banlier) and earning the respect of manager Lydie (Aure Atika). Babou also reveals she hasn't abandoned her enthusiasm for free love when she falls into a passionate but no-strings affair with Bart (Jurgen Delnaet), who works at the local shipyard. Copacabana was an official selection at the 2010 Cannes Film Festival.
Critic Reviews for Copacabana
Audience Reviews for Copacabana
One of the best female characters I have seen in a movie in a long time! I absolutely loved Isabelle Huppert here as the eccentric Babou. Lolita Chammah is also good as the daughter who is so embarrassed by her mother she has decided not to invite her to her wedding. (She is also Isabelle Huppert's real life daughter, and they do look a little alike which made it more believable). I could not personally see what she was so embarrassed about - I thought Isabelle looked fantastic all through this, and as for her behaviour, she showed more decency than all the so-called "normal" people. I would be very happy if I wound up like that at her age! (What am I saying, I think I am on my way there now. LOL. There wasn't one outfit there that she wore that I wouldn't have worn!). Babou gets a job selling dodgy time share units to prove to her daughter that she can be responsible and a parent to be proud of, which brings about some interesting situations. The one flaw was that the ending felt a little rushed, but on the whole, this is a good movie about a mother and her daughter learning to deal with each other as adults rather than mother and daughter and to accept each others flaws.
Nicki Marie
Super Reviewer
Copacabana Quotes
There are no approved quotes yet for this movie.