Crazy People
(1990)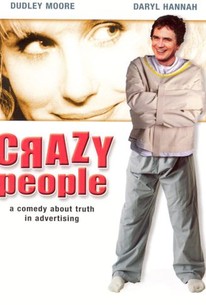 Movie Info
Ad executive Emory Leeson (Dudley Moore) decides to pursue the truth-in-advertising philosophy to its natural extreme and is institutionalized when his strategy meets with little approval from his boss (J.T. Walsh). At the mental ward, Leeson meets several patients and their brainstormed ideas revolutionize the advertising world.
Rating:
R (adult situations/language)
Genre:
Directed By:
Written By:
In Theaters:
On DVD:
Runtime:
Studio:
Paramount Home Video
News & Interviews for Crazy People
Critic Reviews for Crazy People
Audience Reviews for Crazy People
Dudley Moore is a great character actor, and he shines in this light-hearted film about truth in advertising. Although panned I thought it was hilarious.
Eric Jenkins
I don't understand how this movie isn't rated much higher. It is absolutely hysterical. One of the better comedy scripts of the 90s. Dudley Moore is great and the ads he comes up with will make you laugh out loud. Once he goes to the funny farm the other patients are some of the most quotable characters I've seen. Outstanding writing and acting. Don't pay attention to the meter on this one.
DJ Estasi
½
As a person living successfully with a mental illness, I would not endorse the movie "Crazy People" starring Dudley Moore and Daryl Hannah. The movie description of a psychiatric hospital looked more like a five star hotel, causing the average Joe who watches this movie to think that people in a psychiatric hospital are undeserving of stay's in the lap of luxury unlike any hospital stay in a psychiatric hospital I have had. I was glad to watch a movie where people in a hospital had a chance to be in a work environment for the first time in their lives, however inappropriate pay and recognition for a job well done is a true insult to the mentally ill in this country that work hard and provide services that benefit the society around them. The movie did demonstrate an unfortunate historical truth (thankfully no longer lawful in today's day and age) demonstrating how those patients who achieve success in hospital based vocational rehabilitation based jobs were often committed for a period beyond their time for discharge because they were so good in the hospital jobs they were assigned to that ultimately provided profit for the hospital they were committed to. Unfortunately character portrayal's in this movie were not as much a symptom of mental illness as they were criminal or aggressive acts which often times leads people to be fearful of those who are living with a mental illness when in reality people living with a mental illness are much more likely to be victimized by aggressive criminals than the other way around. I suppose many people would find "Crazy People" to be entertaining however it was far from an accurate or realistic snapshot of people living with mental illness. Simply put, the movie did not match up with reality as I have experienced it. In conclusion, the movie "Crazy People" was filled with a lot of myths about mental illness. Although the production team did their best to demonstrate comic relief, my fear is those that choose to watch this movie will have a difficult time with not generalizing the behaviors portrayed by the mentally ill. Such stereotypical behaviors of mental illness include violence, low functioning, child like, idiotic and stupidity all of which are not common characteristics of anyone I know that's living with a mental illness. Although I can't say enough bad things about this movie, the last point I will make in this review will be: Would the story line be considered funny if the movie made fun of a hotel full of people living with a stroke, cancer, diabetes, Alzheimer's, Parkinson's, Multiple Sclerosis, Spinabifida or even Aids? If you think outlining comedy that makes fun of the above diseases can be described as "…Really big laugh's…" like Roger Ebert of the Chicago Sun-Times stated in his review of the movie "Crazy People" you might be as sick as those who made this movie.
Tim Larson
Discussion Forum
Discuss Crazy People on our Movie forum!