Crimes of the Heart
(1986)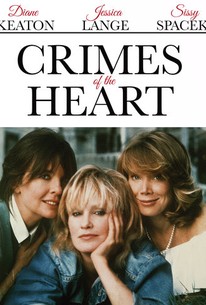 Crimes of the Heart Photos
Movie Info
In this story, three sisters from a rather dysfunctional family in the South are gathered together for a birthday. One can't seem to stay in a relationship for long, one was just released on bond for shooting her senator husband, and the other is an aspiring actress.
Critic Reviews for Crimes of the Heart
Audience Reviews for Crimes of the Heart
½
Yeeeaaah I can be taken into a good women buddy buddy film but it is so easy for these things to get overly sentimental and drippy. I think that is the true crime of the heart of this picture.
John Ballantine
Super Reviewer
I was really expecting alot more from this because I love the 3 stars,but it just wasn't quire there. There are some very funny parts and I enjoyed their interaction,but there needed to be more story.
ashley hayes-beaty
Super Reviewer
½
quirky in both a good and bad way
Crimes of the Heart Quotes
| | |
| --- | --- |
| Babe Magrath: | You know, Chick's hated us ever since we had to move here from Dixieville to live here with old grandmamma and old granddaddy. |
| Meg Magrath: | Well, she's an idiot. |
| Babe Magrath: | Yeah. You know what she said to me this mornin' when I was still behind bars and couldn't get away? |
| Meg Magrath: | What? |
| Babe Magrath: | She told me how embarrassin' it was for her all those years ago. You know, when mama... |
| Meg Magrath: | Yeah, down in the cellar. |
| Babe Magrath: | She said that our mama had shamed the entire family and that we were known notoriously all through Hazelhurst. Then she went on to say how I would now be gettin' just as much bad publicity and humillatin' her and the family all over again. |
| | |
| --- | --- |
| Chick Boyle: | So, Rebecca, what are you gonna tell Mr. Lloyd about shootin' Zachery, uh, what are your reasons gonna be? |
| Babe Magrath: | That I didn't like his looks. That I didn't like his stinkin' looks! I don't like yours either, Chickie stick. So leave me alone and I mean it. Just leave me alone. |
| Chick Boyle: | Uh! Well! I was tryin' to warm her that she is gonna have to help herself. She just doesn't seem to have any idea how serious this situation is, now does she? She doesn't have the vaguest idea. |