The Criminal Life of Archibaldo de la Cruz (Ensayo de un crimen)(Rehearsal for a Crime)
(1955)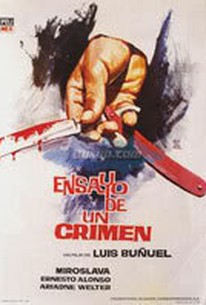 The Criminal Life of Archibaldo de la Cruz (Ensayo de un crimen)(Rehearsal for a Crime) Photos
Movie Info
This Mexican-filmed black comedy (distributed in the U.S. seven years after its initial 1955 release date) is one of the minor but no less characteristic works of director Luis Buñuel. The film begins with Archibaldo (Ernesto Alonso) being triggered by a music box into a lengthy reminiscence of his childhood. It was an average, everyday incident, one that undoubtedly has occurred to us all: Archibaldo was caught dressing up in his mother's clothes by his governess, who was then instantly killed by a revolutionary's bullet before she could tell on him. The experience proved to be Archibaldo's "first rush," and he spends the rest of his life trying to re-create the sexual euphoria of that moment -- by murdering attractive women. Buñuel's characteristic perverse black humor then adds a twist, which prevents Archibaldo from fulfilling his desires. Perverse, but darkly funny, Ensayo de un Crimen is a slyly shocking delight. ~ Hal Erickson, Rovi
Critic Reviews for The Criminal Life of Archibaldo de la Cruz (Ensayo de un crimen)(Rehearsal for a Crime)
Audience Reviews for The Criminal Life of Archibaldo de la Cruz (Ensayo de un crimen)(Rehearsal for a Crime)
terrific pitch black comedy about a would be serial killer whose plans always go awry. notable as the last film of miroslava, who was cremated soon after her mannequin was incinerated in the film
Stella Dallas
Super Reviewer
Fantastic! Not a lot of familiarity with early Mexican cinema but this has a nice humour to the drama that adds a wonderful touch.
John Ballantine
Super Reviewer
½
"The Criminal Life of Archibaldo de la Cruz" may be Luis Bunuel's most underrated film, and it's certainly among the best of his Mexican period. Buñuel's early movies always get scoured for hidden flashes of perversity, but no such labor is required with "Archibaldo de la Cruz." In fact, this droll tale fits quite neatly alongside "The Exterminating Angel" (where people can't manage to leave a party) and "The Discreet Charm of the Bourgeoisie" (where people can't manage to eat dinner). In this case, the elusive goal is murder. As a spoiled child of privilege, young Archibaldo is shown a family music box which allegedly causes an enemy's death when played. He experimentally cranks it while wishing for his nanny's death. A moment later, a revolutionary's stray bullet shatters the window and kills her. The boy is enthralled. This launches a long-time pattern of Archibaldo pursuing murder plans, only to have outside forces intervene first. Still, he assures himself that he is somehow responsible for the deaths. Hence the film's ironic title -- he achieves a "criminal life" in mind only. Individual scenes also have the classic Bunuel touch. There's a macabre daydream with dripping blood, and a second fantasy with atmospheric smoke, a stabbing and a glass of milk (Archibaldo shuns alcohol). Nattering American tourists are derisively portrayed. And recurrent shots of ominous straight razors can't help but recall what may be cinema's most notorious use of a razor ever: the sliced-eyeball image of "Un Chien Andalou." But the most deliciously warped sequence comes when Archibaldo gets ahold of a mannequin modeled after his gal Lavinia. Bunuel has a ball using both the actress and her double in the same scene (they even share underwear!), confusing both his audience and Archibaldo. The mannequin's eventual fate is just as twisted. The film's biggest flaws are simply a matter of money. The production values are crummy. The actors are bland, unknown and uncharismatic. And the horrid organ score sounds like stereotypical music from a vintage soap opera. But if Bunuel had tackled this same script 10 years later, we would have one more black-humor masterpiece. Note: The subtitles in the version I saw were seriously deficient. Not only was the white text occasionally unreadable, but only about 60% of the dialogue was translated!
Eric Broome
Super Reviewer
The Criminal Life of Archibaldo de la Cruz (Ensayo de un crimen)(Rehearsal for a Crime) Quotes
There are no approved quotes yet for this movie.