Crop Circles: Quest for Truth
(2002)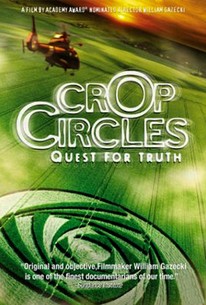 Movie Info
Crop Circles: Quest for Truth is a compelling and provocative feature-length documentary full of never-before-seen footage and interviews with leading Crop Circles researchers and scientists, some of whom agreed to be on camera for the first time. The film is an in-depth examination of prevailing theories about the origin and nature of Crop Circles and the possible implications for us and for the future of Planet Earth. -- © 2002 OpenEdge Media
Rating:
NR
Genre:
,
Directed By:
In Theaters:
On DVD:
Runtime:
Critic Reviews for Crop Circles: Quest for Truth
Audience Reviews for Crop Circles: Quest for Truth
a thorough review of the facts and not pandering to skeptics like Wikipedia consistently does. This mystery is not explained. Don't be lazy and find out for yourself what the truth is.
Eric Vasallo
The best documentary on the phenomena that I know of. A lot of genuine intelligent people from many different disciplines are interviewed for this documentary. The differing opinions on crop circles is really refreshing in that it shows no one has given up and "all are human hoaxes" or "it must be supernatural." The fact that so much legitimate research has been done with no resulting answer is most intriguing. A lot of great footage, but very amateurish at times - don't be scared to ask for a second take if the lighting, sound or other conditions aren't ideal (also, don't let your interviewee smoke)! Included in the DVD is a compilation of crop circles which are fun to look at - for some reason they make me happy while looking at the "symbols."
D M
Crop Circles: Quest for Truth Quotes
There are no approved quotes yet for this movie.