Cry of the City
(1948)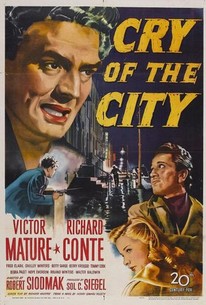 Movie Info
The opening scene of Robert Siodmak's grim film noir depicts police lieutenants Candella (Victor Mature) and Collins (Fred Clark) observing wounded cop killer Martin Rome (Richard Conte) receive last rites. Though Rome recovers, he still must elude Candella and Collins in his desperate attempt to escape his fate. Rome has two visitors in the hospital: his girlfriend, Teena (Debra Paget), who goes into hiding, and Niles (Berry Kroeger), a crooked lawyer. Niles tries to bribe Rome to take a jewel theft and homicide rap for a client of his since Rome is facing the electric chair anyway. When Rome refuses, Niles threatens to frame Teena as the client's female accomplice. Worried that Candella might find Teena, Rome breaks out of jail and goes to Niles' office to accept the offer, but he actually plans to leave the country with Teena. When Niles reneges, Rome kills him, but not before learning the accomplice's identity and discovering the stolen jewels in the lawyer's safe. Rome finds the accomplice, Rose Given (Hope Emerson), and offers to trade the jewelry for the means to leave the country. She agrees, and they arrange a meeting in the subway, but Rome informs Candella of the plan. When the police arrive, Candella is shot, Rose is arrested, and Rome escapes to meet up with Teena in a church. As he is trying to convince Teena to run away with him, a wounded Candella shows up and tells Teena how Rome uses people and that everyone who helped in his escape will be paying a price. Teena rejects Rome, and he runs again, only to be shot down by Candella. The moral order is ultimately restored, but no one has been left unscarred.
Rating:
NR
Genre:
, ,
Directed By:
Written By:
In Theaters:
Runtime:
Studio:
Century Fox
Critic Reviews for Cry of the City
Audience Reviews for Cry of the City
Riveting example of Siodmak's skill not only in transforming indifferent material, but in giving the feel of studio noir to location shooting.
Greg Wood
Hard to find film noir. Worth the search however. Very stylish and very interesting throughout. Siodmak doesn't disappoint.
Slappy McGee
Cry of the City Quotes
There are no approved quotes yet for this movie.