Daisy
(2006)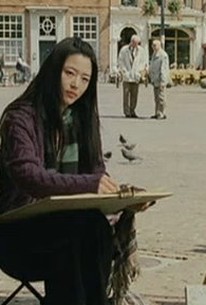 AUDIENCE SCORE
Critic Consensus: No consensus yet.
Movie Info
"Daisy" depicts the last days of a thirteenyearold girl called Daisy, who suffers from severe RECESSIVE DYSTROPHIC EPIDERMOLYSIS BULLOSA (RDEB), and by chance meets Peter, an Iraq War veteran who suffers from drug addiction. Like Peter Pan, he is stuck in Neverland and Daisy, like Wendy, inspires him to change his ways. Daisy helps Peter learn to appreciate life, find home, but most importantly find love, something that she will never experience. As the credits run, we are left wondering what such a powerful little girl could have done with a lifetime of days.
Critic Reviews for Daisy
There are no critic reviews yet for Daisy. Keep checking Rotten Tomatoes for updates!
Audience Reviews for Daisy
This is like a love triangle version of Romeo and Juliet. So you can expect tragedy, pretty much, for the three main characters. I found the movie to be sentimental and melodramatic right from the very beginning, but it's actually not as overbearing, at least until the ending comes along, for a majority of the film. But the way the characters are written and the individual love stories are handled the film was meant to be sentimental. The problem is that I really didn't find the love stories themselves to be all that interesting really. I suppose the idea of this woman falling in love with someone, that she thinks, left her daisies and built a bridge for her, anonymously, so she could cross is good enough, but they don't really explore how the cop leads her to believe that he was the guy who did all these nice things for her. You don't really get a sense that this woman loves this cop for more than just what he did for her, so that's poor character development. There's no real connection there, so it's a little hard to buy that this couple was madly in love with each other. Of course after the cop is murdered, you get to see her relationship with the hitman and how that develops. This isn't really any better, because the hitman, while some of the stuff he did was really nice, he was really a glorified stalker until the girl is shot, and loses her voice, and the cop returns to Korea. But I thought this relationship was a little bit better since Jung Woo-sung, the hitman, is very talented and has a very likable presence about him. It's easier to get into his part of the story than it is the cop's. But I did think that the aspect of it being a cop and a hitman felt forced. Like somehow they wanted a guarantee that none of the main characters would end up alive. Again, it just felt incredibly forced because it doesn't really add anything to the movie other than to give men who hate romance flicks something to be distracted by. And, as mentioned, to ensure that nobody in the movie survived. I did like the performances, nothing to complain about there. Even if, again, they weren't greatly developed characters that they hoped to make up for with the use of rampant sentimentality. They use the score of the film to manipulate your feelings. It's not as bad as I've seen in other films but I do think they were using the score to tell the audience what to feel. I thought this movie was, until the climax, about 2.5 stars. Not good, not bad, just average. The ending brought that rating down to 2 stars because, again, it was too tragic to truly be effective storytelling. You didn't really get a sense that any of the two couples were as in love as the movie would have you believe, solid acting be damned. I didn't really dislike the movie as much as the rating implies, it just went slightly downhill at the end. Unbelievable romances, constant sentimentality (though not as much as I see in a lot of Korean movies, even if the film was shot by a director from Hong Kong) and forced action sequences make this a below than average experience.
Jesse Ortega
Super Reviewer
½
Daisy, set in Amsterdam, the Netherlands, in where some places in the film looked so familiar to me. This was a story of a love triangle between 1 girl and the 2 men. One a professional hit man, and the other an Interpol agent. What rocks was the editing.Some scenes came to the points of view of all leads, keeping you in suspense, and end up in a three way split screen showing all their emotions in a single event, which I found was extremely well-done. It was a beautiful film in terms of landscapes and busy city squares in Amsterdam, with plenty of classical music to sooth the soul. Despite some flaws, DAISY made it tempting for viewing, and the story gripped almost for a dark fascination not to see which of the men Hye Young will end up with, but to see which one will die in her arms. This easy going drama works well enough for the genre, and the film functions perfectly well as an enjoyably romance.
Daisy Maduro
Super Reviewer
½
As has been noted, the Director's Cut and the shorter version are completely different films. Watch the Director's Cut as I found it fantastic. Apparently the shorter cut is more biased towards one of the love interests, which to me, would have made this a very flat and plain love story. It starts off like many Korean romances. Sweet music, a voice-over and an awkward but endearing couple gingerly getting to know each other. Then all of a sudden there is a bad ass shoot out. People get killed,tragedy ensues, it's a manly headbutt to the genre. After all this is from the director of the incredible Infernal Affairs. Andrew Lau is a man who can deliver on action and excitement as well as flesh out his characters. There are a few plot contrivances here and there, but luckily the beauty of the film and Lau's directorial talents shine through. Being a director of mostly films from Hong Kong means that Lau stays away from the overt sentimentality that ruins many Korean romances. A real complicated love affair with balls to match the hugs. Hugballs if you will.
Luke Baldock
Super Reviewer
Daisy Quotes
There are no approved quotes yet for this movie.