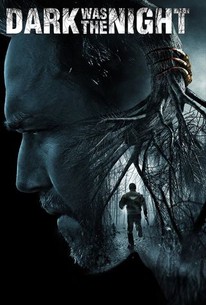 Dark Was the Night
2014, Drama/Horror, 1h 38m
21 Reviews
500+ Ratings
Where to watch
Rent/buy
Rent/buy
Rent/buy
Rate And Review
Dark Was the Night Photos
Movie Info
When a logging company decimates a forest in a small town, a sheriff (Kevin Durand) and his deputy (Lukas Haas) must confront the violent and unexplainable events that follow.
News & Interviews for Dark Was the Night
Audience Reviews for Dark Was the Night
Starts off okay, but ends up being stupid after a while. The ending in particular is really dumb. One thing I do like about this film is that the cinematography is pretty great at times. There are some amazing shots and transitions here...I don't usually notice that in films unless they're done incredibly well.

And so my October HorrorFest starts off with a whimper and not a bang. Much like last year, I'm gonna try to watch as many horror movies as I can during this month. Not that I need any excuse to watch horror movies, it's just that October makes it more fun for me. But yes, maybe I should've started out with something better than this film. While the film does show a surprising lack of restraint, it's not like there's much going on in the film for it to be anything that's really compelling. I think the film definitely tries to focus more on character, and I applaud them for that, and the more small town focus of the story, but the film is really lacking on the horror. The movie hopes that you're into Paul's character arc enough in order to be intrigued enough to watch this through to the very end, but I was honestly bored by it. Paul is pretty much a tortured character after the death of his son, that he blames himself for, and that influences who he is and the struggles he has with his wife and other son. He's struggling to cope while facing a monster hunting his town. So, that's all fine and dandy, but I didn't think that the scripting did anybody any favors. Don't get me wrong, though, I do think the acting, particularly for a low-budget horror film, is actually pretty damn good. I think the film has a real good cast. From Kevin Durand, Bianca Kajilich, Lukas Haas and Nick Damici, the film has a really solid base when it comes to acting. But I just don't think that the writing for Paul's narrative is really all that interesting, in spite of how good Durand actually is in the role. I will say that the film is atmospheric, but at some point you're gonna have to deliver on the horror for the atmospherics to actually mean something and I don't think that the film delivers. The movie employs the Jaws method of only showing you quick glimpses of the monster before waiting until the climax for the actual reveal. Let's just say that this isn't Jaws. The monster doesn't really inspire that much fear. It's just really cheap looking CGi. I don't hold it against them, they just didn't have the budget for it, but it still doesn't look good. The third act is probably the highlight of the film, but it doesn't really reach a level where you can say that this is good. Other than the acting, this would be the best part of the film, though I realize that isn't saying much. This is watchable at best, but it's not a good movie. It's gonna bore you a bit, but the acting is good enough to elevate the film slightly. The third act is fine, but there's nothing in this film that's really worth watching. If you like slightly below average film then this is fine. I wouldn't really recommend it, I'll make sure to pick something better next time.
See Details