Dead Man's Shoes
(2006)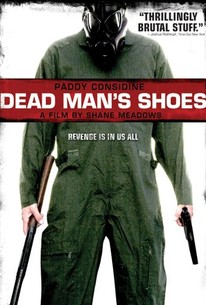 TOMATOMETER
AUDIENCE SCORE
Critic Consensus: Though enhanced by cramped, gritty camerawork, this unsettling look at violence and revenge lacks the provocative edge needed to give it a substantial kick.
Movie Info
Richard has always protected his simple-minded little brother Anthony. When Richard leaves the rural village where they have grown up to join the army, Anthony is taken in by Sonny, a controlling and vicious local drug dealer and his gang of lads. Anthony becomes the gang's pet and plaything. Seven years later, Richard returns to settle the score. One by one, he hunts down each member of the gang and executes them in increasingly elaborate ways as flashbacks reveal the extent to which his brother suffered at their hands. "Dead Man's Shoes" is a genre-defying film blending horror, supernatural elements, comedy, and social realism. Set in a Midlands village, it explores the underbelly of contemporary rural Britain in communities where crime is unchecked and drugs, intimidation, and power games are blandly accepted as the fabric of daily life.
People Who Like this movie also like
News & Interviews for Dead Man's Shoes
Critic Reviews for Dead Man's Shoes
Audience Reviews for Dead Man's Shoes
Revenge stories are a dime a dozen in the cinematic landscape; a subject often used but rarely to the effect of director Shane Meadows' "Dead Man's Shoes." This is a great film, with grit and punkish lo-fi sensibilities that strengthen an already harrowing character piece. Amazingly written (and highly quotable) dialogue abound and highlight the terrific, multifaceted performance of Paddy Considine. A powerful slice of low-budget filmmaking.
The ultimate story of revenge. This movie is powerful and gripping in every way. It is saddening in many parts, and will make you think twice before you ever think of being mean to someone again.
Eric Alvarez
Super Reviewer
Gritty, emotionally powerful, raw and what British Films should be made of. With an almost frightening reality to it, none of the cast could be faulted. This was the film that introduced me to the collaboration of Shane Meadows and Paddy Considine and as a result I became a huge fan of their individual works.. Still very much my favourite British film and proof that good film making doesn't have to have a big budget or high tech effects. Mind games, intimidation and revenge are the power behind this story. I've seen many non-Brits class this as a horror even a Slasher (which is a bit of an insult I feel), but it's too real and passionate to be that. Finally it's only when you look over this film time and time again you come to understand what a great role Toby Kebbell also played in this. Yes I never stop praising this fillm, it epitomizes everything that can be great from a low budget film and it's one hell of a revenge movie.
Lady D'arbanville
Super Reviewer
Dead Man's Shoes Quotes
| | |
| --- | --- |
| Richard: | [narrating] God will forgive them. He'll forgive them and allow them into Heaven. I can't live with that. |
| | |
| --- | --- |
| Richard: | If I were you, I'd get in that fuckin' car and I'd get out of here, man. I'd gather them goonies and get whatever you've got and come at me, cause I'm gonna fuckin' hit you all. |
| | |
| --- | --- |
| Richard: | They're all dead. I executed them. |
| | |
| --- | --- |
| Herbie: | Can I help you mate? |
| Richard: | [shrugs] Sorry? |
| Herbie: | [aggressively] What the fuck are you looking at? |
| Richard: | [shouts] You, ya cunt! |