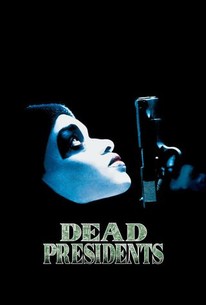 Dead Presidents
1995, Drama, 1h 59m
35 Reviews
25,000+ Ratings
Where to watch
Rent/buy
Rent/buy
Rate And Review
Movie Info
Soldier Anthony Curtis (Larenz Tate) returns to his Bronx home after a nightmarish tour of duty in Vietnam. But the nightmare continues for Anthony and his friends as they suffer the indignities of trying to find steady work and provide for their families in a flagging economy. As desperation takes hold, Anthony teams up with Skip (Chris Tucker), a drug addict, and Kirby (Keith David), a small-time crook, to pull off a bank heist that will give them all a chance for a better life.
Audience Reviews for Dead Presidents
Yes it is broadly about America's failures (both foreign and domestic) and the way violence, once started, never stops. However the more compelling and intimate narrative is about bitter disappointment. Life sometimes has a way of not working out for a lot people for reasons both beyond and within their control. As with "Menace II Society" the Hughes brothers are willing to take us to places that can make just about everyone uncomfortable.

[img]http://images.rottentomatoes.com/images/user/icons/icon14.gif[/img] A now cult film that was for many years wrongfully forgotten. The Hughes Brothers hit it out the park with the clash of realism and crime thriller elements that structured Dead Presidents, which I believe is a deeper and more affectionate film than it was ever given credit for when it first came out. There are many reasons why it never deserved to be slagged off. Firstly, if we wind the clocks back two years earlier the Brothers released "Menace II Society", everyone who loved movies found themselves completely knocked out by how good it was. The general consensus was that it was well directed, powerfully acted, sharply written and discussed important themes. Personally I see no creative differences between said film and Dead Presidents. As it unfolds you learn more about the characters and emotionally invest, it therein becomes incredibly gripping and emotionally fulfilling. Which is key to why the action works as well as it does and the final scenes have a greatest impact to anything seen earlier on. The performances are very well researched and at no point do you believe that any of the characters are being portrayed by actors, it nails believeability persuasion right on the head. The period setting and atmosphere is also captured perfectly, and the sense that our hero Anthony Curtis has literally nothing and no one to live for is realistic and makes for an interesting and equally awesome lead. It intelligently depicts the lives of Vietnam war veterans who upon returning home to the Bronx receive no compensation whatsoever for their physical and emotional struggle in combat. It does so in a fashion that is both hugely entertaining and completely unbiased. But what I really loved about this film is how the Hughes Brothers decide to play everything that happened completely straight while changing very little of the truth in it's story for dramatic purposes. I think the fact it was brutally realistic and changed little to work as a piece of cinema was the reason behind it's poor first impressions that ended up appalling the critics. But as a true story put on screen, whether it's structurally tight or not, it tells it in a way which is tense, funny and entertaining. It does have it's fair share of flaws, but there's no way of hiding that it deals with a touchy subject brilliantly.

Consistently engaging, well acted, and ambitious in its themes, Dead Presidents is a strong and interesting look at the Vietnam War, race in the 60s-70s, and class differences. It features strong performances from its leads, with excellent efforts by Larenz Tate, Keith David, and Chris Tucker (who provides a lot of needed comic relief). What is most impressive about Dead Presidents is the films world building. The Bronx we see is undeniably authentic, with the film seamlessly transitioning to Vietnam, without missing a beat. When the film transports back, we see the passage of time (a few years), in a very real way. In that sense, the direction is quite strong, with a good build up for most of the film, and an emphasis on the characters. The script is good from the standpoint that it has sharp dialogue, and doesn't opt for film cliches or really easy stereotypes. Instead, we're treated to an intelligent examination of a lot of themes. This, however, came back to hinder the film in the final act, with an overly rushed heist set-up, with the heist itself seeming tonally inconsistent and implausible. The last third of the film just doesn't seem to be very cohesive, we never fully understand the character motivations, it all seems to happen quickly, in an otherwise patient narrative. It was as if the filmmakers tried to tackle too much ground, and spent too much time focusing on themes and story lines that don't fully pay off, and weren't directly related to the climax. Despite its weak ending, however, Dead Presidents does more than enough right to make it well worth watching, if not for the strong performances and unique take on Vietnam. 4/5 Stars

It was a good movie and had some good drama and action. We can see some young actors here like Chris Tucker, Larenz Tate and Terrence Howard showing there work and bringing there usual style to the movies. This action drama was the second film by the movie-making twins, Albert and Allen Hughes. The two started their careers with the urban drama, Menace II Society, and this effort has a 70s urban setting. The style and skill of these talented filmmakers is immediately apparent and the script which they co-wrote with Michael Henry Brown has well-developed characters and great tension along with explosive action scenes framed with an engrossing small scale story. The acting is excellent, but the real star here is the Hughes direction which is cool and inspired. Larenz Tate is Anthony Curtis, a good-natured high school kid in 60s New York who is enjoying life with his girlfriend, Delilah and good friends, Skip (Chris Tucker in an early role) and Jose (Freddy Rodriguez) and running numbers for a local tough guy, Kirby (Keith David). Those days are not to last, however, as all three of the young friends end up in Vietnam. Following a fairly lengthy and well-done segment in the Nam, all three end up back in the old neighbourhood, where Anthony finds adjusting to civilian life difficult. Soon (and rather suddenly), the whole bunch of them are planning an armoured car heist, and ohhhh boy, what a heist it turns out to be.
See Details