Death Wish
(1974)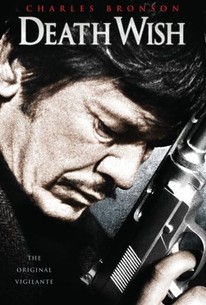 Movie Info
This drama about a man who takes the law into his own hands was wildly controversial upon first release, sparking much debate about the perceived pro-vigilante stance of the story, and established Charles Bronson as a major box office draw in the United States. Paul Kersey (Charles Bronson) is a liberal architect living in New York City. One day, a group of drug-crazed thugs break into his apartment while he's gone, killing his wife Joanna (Hope Lange) and brutally raping his married daughter, leaving her comatose. When the police are unable to find the culprits, Kersey arms himself and begins patrolling the streets, killing muggers and thieves as he encounters them. While his obsessive search for street justice sickens him at first, in time Kersey begins to enjoy it and becomes a hunted man himself, as Police Detective Frank Ochoa (Vincent Gardenia) tries to find the man who is doing the police's job for them, and a bit too well. Jeff Goldblum made his screen debut as one of the lunatics who attacks Joanna.
Critic Reviews for Death Wish
Audience Reviews for Death Wish
½
How would you respond to ever-present crime, especially when it becomes personal? That's the central question in this film, a controversial crime film centered on vigilantism in the early 1970s. This is a stylish 1970s message picture, not unlike Dirty Harry just a few years prior. Charles Bronson's middle-aged businessman, liberal, and prior conscientious objector character must answer that question. Do you remain "civilized" (a term used throughout) or do you stand and fight? Bronson's Paul Kersey takes a cue from a business acquaintance in Tucson, and starts looking for justice. Not content to look for the criminals who destroyed his family, he actively seeks out muggers and kills them. This film was controversial; is it really propaganda for vigilantism? I really don't see Bronson in that vein. He does seem satisfied although conflicted at first. Also, the home invasion/rape scene is not for the timid; it must have been shocking in 1974. I recommend this, although it is dated and I like Dirty Harry more. In the same vein, Tom Clancy's Without Remorse would make a great movie; I wonder why that hasn't been made? Look for Christopher Guest, Lawrence Hilton-Jacobs, and Jeff Goldblum. Also, Vincent Gardenia shines as Det. Frank Ochoa, probably the most believable character in the film.
Clintus Maximus
Super Reviewer
I find it fascinating how this created controversy in both the USA and the UK for very different reasons. A certain scene of sexual violence was considered too extreme and endorsing (according to the BBFC). Whereas the film sparked controversy over in America for being propaganda for vigilantism. However, these don't stop Death Wish from being a powerful and interesting story about how one man's perception on the world changes and how he reacts to it. Charles Bronson does give an impressive performance in which you can understand and sympathise with his character of Paul Kersey. It may not look the most appealing of films, but it's strong, intense and you (sometimes) agree with how Kersey handles certain situations.
Samuel Riley
Super Reviewer
Excellent revenge action drama starring Charles Bronson, Death Wish is a fairly basic flick that relies on a simple plot. However the genius of this film lies in the menacing performance of Charles Bronson who shines as Paul Kersey, who's bent on revenge after the brutal beating of his wife and daughter at the hands of hooligans. This is an essential film to watch for Bronson fans as well as those looking for a classic action film. Brilliantly acted and directed, this is a very good film that displays Charles Bronson in top form. This film is a 1970's action classic. With effective directing, director Michael Winner crafts a wonderful action film that remains a standout film of 1970's action. If you enjoy Charles Bronson's work, give this film a shot. The plot is fairly simple, but it manages to be thrilling due to a strong script, and Bronson's memorable screen presence. If you love old school action films like Dirty Harry, The Mechanic and Bullit, then give this one a watch. The action is great and fairly minimal compared to the sequels, but that's not a bad thing because the focus is more on the characters and with that, it helps telling a great story despite its simple idea. For fans of Charles Bronson, Death Wish is a must see. There's a good cast here, and there's enough action and drama to keep you involved from start to finish. This film is one of the best revenge films to ever be filmed and it's an essential Charles Bronson film to see. If you love classic action, definitely watch this film. Death Wish is thrilling and leaves you hooked from start to finish. With a solid script, great cast and a powerful lead performance from Bronson, Death Wish delivers the ultimate revenge experience.
Death Wish Quotes
There are no approved quotes yet for this movie.