Deathstalker II
(1987)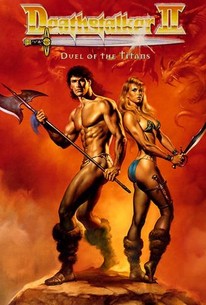 AUDIENCE SCORE
Critic Consensus: No consensus yet.
Movie Info
Sword-and-sorcery sequel with John Terlesky stepping in as the hero who comes to the aid of a princess (Monique Gabrielle). Jarek: John La Zar. Sultana: Toni Naples. Amazon Queen: Maria Socas. One Eye: Marcos Wolinsky. Gargol: Deanna Booher.
Critic Reviews for Deathstalker II
There are no critic reviews yet for Deathstalker II. Keep checking Rotten Tomatoes for updates!
Audience Reviews for Deathstalker II
Look at the poster for this film, its damn cool with a really hot barbarian female, aggressive and looks like some old Amiga computer game box art. Remember the old classic computer game 'Barbarian'? I wonder if they got their box art ideas from these films and the poster art?. Now I look even the font on the text is similar for both, curious. Now watch the film and you notice some slight differences with what you may have been expecting. Not that you really should be expecting much with this franchise. The cheap cheap low budget sequel to the first film really does earn the label of B-movie in every aspect. The first film was reasonable but this is dire. The main lead looks the part but acts like a buffoon in lame attempts of badly executed humour. The continuity is gone as 'Deathstalker' is now a different younger actor, not that continuity was probably high on the directors list...or your expectation list either. As before there are plenty of topless females running around, this is fine hehe, its just a shame they are all running the flimsiest sets you have ever seen. The comedy is in watching the bad acting against the homemade sets, just like good old Ed Wood. Of course you can't really knock such a film as it was never meant to be a serious major production, although there is care involved clearly. Its nowhere near as good as the first and that was average at best, they actually use many old clips from the first film to flesh out this one. Bad move when you see the characters from the first film, ones that were killed even, errr did anyone check that?.
Phil Hubbs
Super Reviewer
"You have to get up pretty early in the morning to catch the Prince of Thieves." "But it IS pretty early in the morning!!" The most entertaining sword & sandal flick ever made, largely because the cast are in on the joke. The sets are cheesy, the budget minimal, and everyone knows it and nothing is taken seriously. References to Hawaii Five-O, Raiders of the Lost Ark, Laugh-In, and Loony Tunes among others that pepper the script add to the silly fun. Monique Gabrielle is alternately adorable and sexy in a dual role while chisel-chinned John Terleskey mugs and wisecracks his way as the title hero. The DVD commentary is a hoot as Terleskey, co-star Toni Naples, and director Jim Wynorski reminisce about the 3-week shoot in rural Argentina, while pointing out a bald tire and parked Volvo in various shots.
Doctor Strangeblog
Super Reviewer
Deathstalker II Quotes
| | |
| --- | --- |
| Reena the Seer/Princess Evie: | (evil clone gets stabbed by good original) You... Bitch! |
| Reena the Seer/Princess Evie: | [evil clone gets stabbed by good original] You... Bitch! |
| | |
| --- | --- |
| Amazon Queen: | I will have my revenge! And deathstalker too... (title screen appears) |
| Amazon Queen: | I will have my revenge! And deathstalker too... [title screen appears] |