Dementia 13
(1963)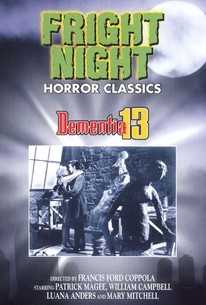 Movie Info
A series of axe murders is extinguishing the members of an Irish family one by one, and the motive turns out to be a large inheritance. The first quasi-mainstream film directed by Francis Ford Coppola, Dementia 13 was produced and financed by Roger Corman. Corman also allowed Coppola the use of several of the stars of Corman's contemporary film The Young Racers.
Critic Reviews for Dementia 13
Audience Reviews for Dementia 13
This low-budget horror film produced by Roger Corman and directed by Coppola before he went on the become a famous filmmaker has evident shades of Psycho but is not even frightening, with a lame, uneven plot in which nothing much really happens.
Carlos Magalhães
Super Reviewer
½
Not a bad schlocky horror flick overall, but the real reason this film is even remotely noteworthy is that it's the directorial debut of Francis Ford Coppola (credited as Francis Coppola in the credits). Before Coppola directed landmark cinematic masterpieces such as "The Godfather" and "Apocalypse Now", he directed this low budget chiller with B-movie king Roger Corman producing with funds left over from "The Young Racers". Coppola's raw vision is definitely made apparent through some inventive cinematography and atmospheric locations. The film is sprinkled with brilliant scenes like the film's first murder and the opening sequence. It is also apparent that Hitchcock is one of Coppola's influences because the plot is essentially a low-rent "Psycho". Eventually the movie becomes bogged down by a drawn-out mystery plot that makes the film drag in the second half. The plot also becomes so incomprehensible at times that it becomes hard to care because their is barely a central protagonist. Plus some juvenile gore effects make the film border on silliness. This B-grade horror chiller is certainly watchable but I've seen better.
Christopher Heim
Super Reviewer
By the time this film was over, I couldn't help thinking that if it were made today, using modern technology and special effects, "Dementia 13" might be one of the all time great horror and psychological thrillers. Add to that the fabled directing of an experienced Francis Ford Coppola, and you would have a modern day classic instead of a 1960's era 'B' grade programmer. Even so, the movie stacks up remarkably well, dated or not, particularly in the creepy edge given to it by the dysfunctional Haloran clan and it's setting in an old Irish castle. Early on, we're led to believe that the scheming Louise Haloran (Luana Anders) will play a primary role in the Haloran saga, out to secure a sizable fortune upon the death of her mother in law (Eithne Dunn). She's not above a bit of skulduggery when her husband John dies of a heart attack while rowing on an estate pond; she merely weights his body down and sends it overboard. Blaming his disappearance on a business trip, Louise prepares to deal with the annual ritual of honoring the memory of John's deceased sister Kathleen, now dead for seven years. Mother Haloran presides over the austere gathering under black umbrellas, just as the original ceremony was conducted in the rain, a very effective touch. John and Kathleen have two surviving brothers, Richard and Billy, (William Campbell, Bart Patton), and as the movie progresses, one begins to understand that something is not quite right with either one of them. Through deft storytelling and misdirection, Coppola guides our way through an intricately weaved mystery that plays out among suffocating underwater scenes and well timed ax thrusts. The appearance of a very lifelike doll in the image of young Kathleen keeps showing up in unusual places, adding resonance to the mystery. The Haloran family doctor, portrayed by Patrick Magee, has his own ideas about what's going on, but manages to cast suspicion on himself along the way. Watch carefully in the movie's latter half when he enters a work shed and discovers the body of Louise and the lifelike Kathleen doll. Carefully picking up the doll, he closes the shed door, and immediately in the next scene is shown walking with the doll in his arms and a cigar in his mouth. As flashback scenes of young Kathleen's drowning death recur through brother Billy's memories, the link is established to the identity of the film's ax wielding loony. When his identity is finally revealed after taking a bullet from the vigilant Dr. Caleb, he utters the message earlier seen on a headstone which lay buried beneath the pond's surface - "Forgive me Kathleen". Taken together, and reflecting on all the elements of the story, "Dementia 13" defines itself as a satisfying horror mystery that laid the groundwork for future greatness for it's young director Francis (minus the Ford) Coppola. When you consider that Coppola also wrote the original story, you'll have an even greater appreciation of the film, and rightfully so. Fans of Mr. Coppola and 1960's horror should not miss this one.
David Ladd
Super Reviewer
Dementia 13 Quotes
There are no approved quotes yet for this movie.