Derrida
(2002)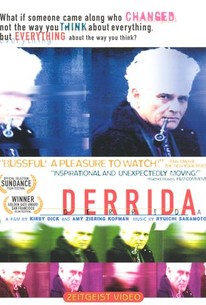 Movie Info
A portrait of the brilliant and controversial French thinker, Jacques Derrida, and the themes that haunt and inspire his work. The founder of a school of critical thinking that radically questions the nature of texts, the reader, and the multiple layers of meaning at work in language, Derrida's work has been a profound influence on analysis of literature, linguistics, philosophy, law and architecture. And although best known for his early work, this last decade has witnessed an outpouring of Derridean thought on a broad range of subjects from justice to national identity.
Cast
Critic Reviews for Derrida
Audience Reviews for Derrida
If Derrida and postmodern thought interests you, you'll love it. I did.Groen's review nails it: The picture's charm lies in the continuing by-play between the filmmakers and their subject, with each side doing its best to deconstruct the other.
Morris Nelms
Super Reviewer
½
To say that Derrida has had a deep-seated, almost insidious impact on my life is no joke. He's always lurking in the back of my mind, a kind of undercover commentator, peeping out of my subconscious from beneath a grayish colored canvas tarp, waiting to pop up and insert a comment or two in any given situation.
He's like a general contractor overseeing the construction project of my house-life, with me up on the scaffold, counting on him to steady it while I build to higher heights. I look down suddenly, and wouldn't you know it: Instead of supporting the scaffold, he's lighting his pipe. I notice nothing but the dark bowl of that pipe. Vertigo sets in. The bowl expands before me, a black and bottomless pit. Is this the abyss. The scaffold rumbles and begins to shake apart. Derrida puffs thoughtfully at his pipe. I fall headlong into blackness . . . Nah, just kidding.
Jacques Derrida was cutting-edge influential back when I was in school, and he continues to be taught widely in college classes right now. And it's not just philosophy courses, either. Walk into a college bookstore and stroll the aisles. You can see him being taught in English, history, political science, education classes -- and on and on. An amazing man and an interesting portrait. His comments on biography/autobiography will be with me for a while.
At times, the personality that comes across in this film reminds me of the personality displayed by Bob Dylan when he was constantly being hounded to "explain" himself, early on in his career. His take on "forgiveness" tied my brain in knots. But that's Derrida. He's one of the great contemporary game players, one of the best tie-your-brain-in-knots thinkers worth the torture of grappling with.
Note: If you dig into Derrida, remember that he evolves, just like Dylan. He was no spring chicken, either, when he passed away, so like Bob, he'd been evolving for many years.
Lanning : )
Super Reviewer
[font=Century Gothic]"Derrida" is a documentary about the noted philosopher and deconstructionist, Jacques Derrida. The film follows Derrida in his daily life at home in Paris and at work lecturing, and also to New York City and South Africa to appear on panels. During which, he is constantly commenting on the artificiality of the whole situation of the documentarians trying to capture him looking as natural as possible.(I imagine all documentaries have footage like this but it almost always ends up on the cutting room floor.) This gives some insight into Derrida's thinking, along with readings from some of his works. But it would have been nice to have some talking heads testifying about his influence within his chosen field.[/font]
Derrida Quotes
There are no approved quotes yet for this movie.