Design for Living
(1933)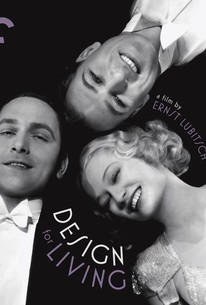 Movie Info
In this film, based on the stage comedy by Noel Coward, playwright Fredric March and artist Gary Cooper both fall in love with Miriam Hopkins, an American living in Paris. The girl can't make up her mind between the two men, so the threesome decide to move in together.
Critic Reviews for Design for Living
Audience Reviews for Design for Living
Noel Coward's subversive (and persistent) dream longing for the halycon days of the court of Caligula's nightly entertainment is toned down slightly by writer Ben Hecht and impresario director Ernst Lubitsch into a coy consideration for the free love movement ... in 1933, no less. The principals are charming, all professing love for the Bohemian experience while desperately trying to leave it behind.
Kevin M. Williams
Super Reviewer
"Design for Living" since It's inception has been dubbed a critical failure due to the time and Ernst Lubitsch changing all the original dialogue, save one line. Even though the film was made in 1933, it was very open and expressive in its sexual themes but in a way that it got around the censors. A mere few years later however, it didn't meet the guidelines on the censors and disappeared for quite some time. The film revolves around a sexually free woman and her trials involving two handsome men (played wonderfully by Fredric March and Gary Cooper) that she meets on a train. The two men fall for Gilda Farrell (played by a lovely and beautiful Miriam Hopkins) and she starts relationships with both. They quickly discover each others involvement with Gilda and jealously arises causing Gilda to leave both men for Mr. Plunkett with whom she marries. In the end both men come to terms that the three can work out their complicated relationship and all remain together. The miserable Gilda is saved from her misery by the two men and Mr. Pluckett agrees to a divorce (He's eluded to as being gay although it is never declared). The film pushed the boundaries and censors and that's to be respected in my opinion and the film is a fun and witty watch with hidden meanings to avoid censorship. Recommend!
Chris Browning
Super Reviewer
the risque lubitsch comedy was originally a controversial noel coward play about a bohemian menage a trois. fearing that film audiences weren't as sophisticated as those of the theater, the studio hired ben hecht to gut the script and very few of coward's witty lines survived. while this is a crying shame, lubitsch still manages to work a little magic with alot of help from the ever charming miriam hopkins, a free-spirit who can't choose between two friends in love with her. soon they all agree to a rather unconventional living arrangement. the male leads are an impossibly handsome gary cooper, showing some comedy skills that got little use later in his career, and frederic march, who's even funnier imo. definitely worth a watch for the stars and unusual subject matter. it's clever but one can't help wondering what might have been
Stella Dallas
Super Reviewer
Design for Living Quotes
There are no approved quotes yet for this movie.