Detroit
(2017)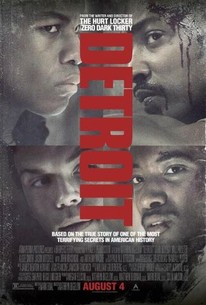 TOMATOMETER
AUDIENCE SCORE
Critic Consensus: Detroit delivers a gut-wrenching -- and essential -- dramatization of a tragic chapter from America's past that draws distressing parallels to the present.
Movie Info
From the Academy Award winning director of THE HURT LOCKER and ZERO DARK THIRTY, DETROIT tells the gripping story of one of the darkest moments during the civil unrest that rocked Detroit in the summer of '67.
News & Interviews for Detroit
Critic Reviews for Detroit
Audience Reviews for Detroit
If you thought the sound design in Dunkirk was crazy effective wait until you get a load of Kathryn Bigelow's Detroit. That isn't to say one is more effective than the other, but both utilize their environments and the sounds that resonate most within those environments to help push the visceral experience of both films to the next level. A level that indeed truly transcends the space and time of where one might be viewing the film and places you among the riots of the summer of 1967 where fear, uncertainty, and chaos ran rampant. I open with such a statement not to emphasize the technical aspects over everything else in a film as important and timely as Detroit so as to draw attention away from the tough and difficult subject matter at hand, but more to begin a dialogue about why the movie itself becomes equally effective and affecting. It is through this portal of sound, of genuine gun shot smatterings that ring out at any given point in the movie and make you feel not only as if you're in the room with these characters, but are then also inherently placed in the headspace of someone such as Larry Reed (portrayed by newcomer Algee Smith), a singer and aspiring musician who just so happened to be in the wrong place at the wrong time. It is interesting, seeing how writer Mark Boal's (The Hurt Locker, Zero Dark Thirty) screenplay brings several strands of characters, historical situations, and themes together into a single, encapsulating experience, but while we don't meet Larry Reed until just prior to the events that the film dedicates its biggest chunk of time to it is his arc that we become most enamored with in many ways due largely to the fact he faces a wider variety of obstacles in terms of difficult choices as well as attempting to comprehend a life that seemingly has everything he ever hoped for stripped away in the matter of a handful of hours. That also said, Detroit is not about a single character, but more it is about how far away we still are from things being easy even if it would seem we've overcome so much in the fifty years since these infamous riots. As a piece of entertainment, Bigelow's film isn't something to be recommended for the experience which it entails, but rather because it is a heavy experience that needs to be known about and acknowledged. Detroit is about acknowledgment and about asking not why this happened in the past-we know why it happened-but rather if we're doing today what we need to be doing in order to prevent as much from happening again. Detroit is a reminder we're not doing as well as we should be in case you couldn't tell already. read the whole review at www.reviewsfromabed.com
Philip Price
Super Reviewer
Director Kathryn Bigelow is no stranger to telling true stories in honest ways. Yes, she has made blockbuster films like Point Break in the past, but her current staple is bringing true events to the big screen. Whether it's as simple as a bomb-defusing team in The Hurt Locker or tracking down Osama bin Laden in Zero Dark Thirty, her way of slowly giving the audience what they came for, is even more present in her latest outing with Detroit. Much like I felt about Christopher Nolan's Dunkirk, this film is a very well-executed depiction of an historic event in history, but there are elements that could've easily been tweaked, added, or removed in order to make a better film overall. Here is why Detroit may deserve your time if you know what you're in for. When it comes to films like Detroit, you want to be as accurate as possible, due to the fact that it's a very touchy subject. When I read that one of the focusses of the film would be on a fictional character (played by John Boyega) I was very nervous. Thankfully, his addition was for a specific reason, which I will let you experience for yourself. That being said, this film suffers from a few things at the same time. At its core, this is a movie surrounding an event during the riots in 1967, but the fact that the riots themselves are not in the forefront enough, is exactly what the average moviegoers will be complaining about. Personally, a film about the riots themselves would be a great showcase, but I thought the choice of following particular people to one event was just as thrilling. The biggest complaint that I feel people will have, is the fact that the run time of 143 definitely feels its length. Quite honestly, this film feels like a three hour picture at times, but once the detached storylines finally meet in the middle of the film, the pace picks up quite a bit. Personally, Detroit is a little too long for the story that it tells, but it's not that it's slow. I know I stated that the film feels its length, but that's only because of the fact that takes place in very few locations, with little to no action. This film is all about the inner demons in who is good and bad throughout this city. I found myself incredibly engaged, even though it could've easily been trimmed down to two hours. What also makes this film feel its length, is the fact that you can clearly see the three acts. The first being the riots that build each character up, the second being the incident itself, and the third being the aftermath. The fact that you could see each act begin and end was a big issue for me, because you knew there was still a little or a lot left for the film to showcase. Once again,I found myself incredibly engaged throughout this movie, and everyone delivers fine performances all around, so the content presented in the film itself was very well-done. I just found that they could've tightened the film up and been a little less formulaic. From Will Poulter (who I grew an insane hatred for throughout the film), to John Boyega, to credible newcomers in Jacob Latimore or Algee Smith, the cast of this film gives their all in their portrayals of these figures. Kathryn Bigelow directs with visceral realism, providing shaky cam footage that feels like you're right up in their faces, and film itself provides an interestingly secretive look into a specific event during the 1967 Detroit riots. It's definitely too long, but it really doesn't feel slow, but take from that what you wish, because I can still see how people may find themselves checking their watches. Detroit sets you up for an event and the majority of the film takes place solely at that one location, but I feel that aspect both benefits and hurts the movie as a whole. In the end, Detroit is a very realistic film that sucks you in from the start. As long as you're weary of the run time and are not expecting a film filled with quickly paced rioting in the streets, then you may just find yourself engaged like I was. This is a very solid film worth checking out.
I knew very little about Detroit before heading to the theater. I knew it was about riots from the 60's, and I knew it was directed by the highly esteemed Kathryn Bigelow; known for masterpieces like The Hurt Locker and Zero Dark Thirty. What I got was a little different. It opens with a very out of place animated short briefly explaining the hardships African Americans faced when making their voyage from Africa to America. The text that followed seemed very political and opinionated, and I was shocked knowing that Bigelow was behind it; in other words, it felt forced and tacked on. What I wasn't expecting was when the focus shifted from several groups scattered throughout the city of Detroit to the same groups converging towards one small motel. It's raided by police after they were targeted by what they thought was a sniper coming from the 2nd floor, and the team of cops that raid it are some of the most racist characters I've ever seen on screen. Will Poulter shows a young but commanding presence as their leader, and he's brutally violent, ruthless, and crazy. His performance will hopefully lead to an Oscar-nomination. John Boyega does a great job as an African American security guard; a man among a huge force of white police officers. We're given the constant lingering anxiety knowing that although he's on the cops' side, he is nonetheless a man of color. But the biggest downside here is the cinematography. They were definitely going for up-close and personal, guerilla-esque camerawork, but it ends up coming out way too shaky and dizzying. Screenwriter Mark Boal is seemingly learned on the subject, but I can't help but wonder how much of it is accurate and how much of it is spiced up for Hollywood's sake. At the end of the lengthy but hearty 143 minute running-time, my friend and I got up to leave the theater. My friend and I, being the only two white guys there, felt a lot of eyes on us as we walked out. This proves that Bigelow has made a huge, horrifying and affecting statement on police brutality, and I have to give her a lot of credit for having pulled it off.
Kevin Mozulay
Super Reviewer
Detroit Quotes
There are no approved quotes yet for this movie.
Discussion Forum
Discuss Detroit on our Movie forum!