Devil Times Five (Peopletoys)
(2003)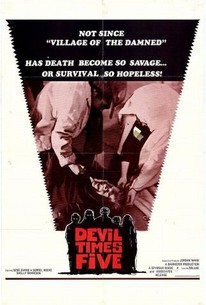 AUDIENCE SCORE
Critic Consensus: No consensus yet.
Devil Times Five (Peopletoys) Photos
Movie Info
This quirky psychological thriller involves a quintet of weird kids who stumble into the luxurious winter retreat of a wealthy patriarch (Gene Evans) and his arrogant guests. Little do the effete vacationers realize that the children are escapees from an asylum for the criminally insane -- a fact they realize only after their doom has been sealed. The only known film from director Sean MacGregor (released theatrically as People Toys), this is a seldom-seen but thoroughly satisfying horror sleeper with a sardonic sense of morality, taking great delight in knocking off Evans' circle of decadent snobs in graphic and innovative ways (one guest is joined in the bath by piranhas; another is pummeled with chains in a creepy still-photo montage). Known also to some drive-in venues as The Horrible House on the Hill, no doubt as part of a double-bill with Wes Craven's Last House on the Left.
Critic Reviews for Devil Times Five (Peopletoys)
Audience Reviews for Devil Times Five (Peopletoys)
A bunch of crazy kids start killing people! What a great horror story. Okay, it's not fantastic, but I really enjoyed this crazy movie anyway.
08/08/2010 (ONLINE) Such dreadful children! But why do I like them?? If you were to hook "The Little Rascals" up with the "Orphan", you would end up with this lot. In a weird way I enjoyed the way they were still being kids among themselves but what I could see is that innocence fused with darkness is not entirely wicked when you think you are the good guys. It's quite an awful thought but it is a suitable plot for this flavor on interest. I wonder if there is a sequel? I would definitely check it out.
EightThirty .
Super Reviewer
Devil Times Five (Peopletoys) Quotes
There are no approved quotes yet for this movie.