Dhadkan
(2000)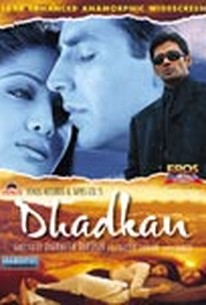 AUDIENCE SCORE
Critic Consensus: No consensus yet.
Movie Info
Dev (Sunil Shetty) and Anjali (Shilpa Shetty) are in love . Dev comes from a poor background while Anjali is a rich man's daughter . Anjali's father disapproves of Dev and arranges her marriage with Ram (Akshay Kumar) . Ram is an affectionate husband but Anjali is still haunted by memories of her past love and does not respond to the love of Ram . Ram lives with his stepfamily who hate him , but Ram believes that one day they will surely undergo a change of heart . But that does not happen and hence Ram asks his stepfamily to leave the home . Anjali starts loving Ram , but Dev returns in her life . He has become a millionaire and wants to win the love of Anjali . Therefore he creates a financial crisis in Ram's life . Anjali is now torn between two men who love her equally.
Critic Reviews for Dhadkan
There are no critic reviews yet for Dhadkan. Keep checking Rotten Tomatoes for updates!
Audience Reviews for Dhadkan
Dhadkan is the story of two guys vying for the love of the same girl Anjali, (Shilpa Shetty) a rich girl who hails from a well- to-do influential family. Her father Mr. Singhal (Kiran Kumar) is a renowned businessman who has great dreams for his daughter. But Anjali is in love with Dev (Sunil Shetty) who does not have a wealthy background, however, Anjali does not feel that this should be a problem. Dev loves Anjali but at the same time he is also aware of his financial shortcomings. He is very candid about his lack of wealth with her dad. This repulses her dad, and he refuses to approve of Dev. The parents arrange a marriage instead with a wealthy suitor, Ram (Akshay Kumar) who her parents believe will be a perfect match for her. Then Dev returns to her life, not as the poor and penniless Dev, but a multi-millionaire. Now Anjali finds herself on the crossroads where she has to choose between her husband and her lover. The story was a basic Bollywood love triangle, with a twist this time. But there is something that makes Dhadkan unforgettable, it's the music, with its well-choreographed songs with meaningful lyrics.
An interesting movie. Forlorn love. Honor. Relationships. Friendship. Anjali and Dev have loved each other since childhood, and when the time arrives for Anjali to get married. She convinces her parents that she wishes to marry Dev so she brings him home to introduce him to her parents. Rebellious and strong-willed, Dev invokes every possible form of anger and doubt. Refusing to accept Dev, Anjali's father insists that she marry his choice: Ram. Obeying his wishes, Anjali marries Ram. As she settles into her new home, she is initially at odds with Ram's stepbrother, stepsister, and stepmother. Unwilling to bear the hostility between his wife and family, Ram insists that his family move out of the family home. As they do, Anjali begins to respect her husband even more. She also begins falling in love with him. Their bond grows deeper, and later becomes threatened when Dev arrives. Refusing to give up on Anjali, he begins to threaten their relationship in hopes that Anjali will be his in the end. Great cast- Shilpa Shetty, Suniel Shetty, Akshay Kumar, Mahima Chaudhry, and Kiran Kumar. Worthy!
Dhadkan Quotes
There are no approved quotes yet for this movie.