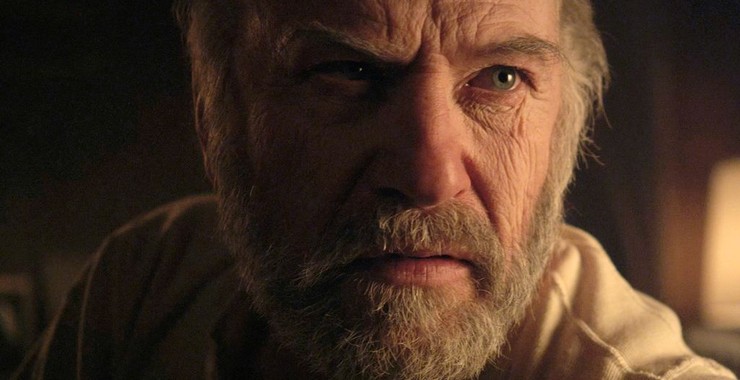 TRAILER 2:04
Play all videos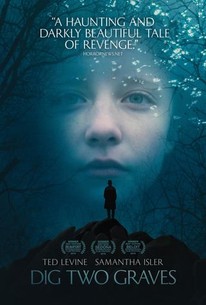 Dig Two Graves
2014, Mystery & thriller/Horror, 1h 25m
28 Reviews
500+ Ratings
Rate And Review
Dig Two Graves videos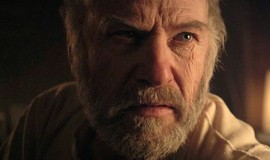 Dig Two Graves: Trailer 1
TRAILER 2:04
Movie Info
After 13-year-old Jacqueline Mather (Samantha Isler) loses her brother in a mysterious drowning accident, she is soon visited by three moonshiners who offer to bring him back to life, but at a grim cost. As the dark history of her grandfather, Sheriff Waterhouse, is unearthed, the true intentions of the moonshiners come to light.
News & Interviews for Dig Two Graves
Audience Reviews for Dig Two Graves
I don't know why, upon having seen this film's trailer, I came to the assumption that it was a horror movie. The trailer was certainly misleading. Then again, I don't think it's as purposely misleading as, say, the trailers for Tim Burton's Sweeney Todd movie completely looked ignored the fact that it was actually a musical. This movie isn't that. You see three strange men giving a teen girl an opportunity to bring back her deceased brother (who drowned in the lake when he jumped off the quarry trying to help his sister get over her fear by jumping in with her). All she has to do is sacrifice somebody in exchange. Sacrifice is too strong a word, let's just say that someone else has to take her brother's place. The trailer shows you visuals of strange rituals where snake's blood is poured all over a person's face. Naturally speaking, one would come to the reasonable conclusion that this is a horror movie. Oh, but it is not. It's certainly got some horror elements, but this is more an unconventional gothic revenge thriller. One other thing before we continue with this review, Ted Levine is a hero among men in this movie. He is so fucking great in this movie, I think he's the main reason why I've given this the rating I have. I do like the narrative and how Waterhouse and Proctor's past with this gypsy family comes back to haunt them and their grandchildren. The film might feel aimless in spots, but as more layers of the narrative are peeled off, you understand just exactly how things came to be and how Wyeth, John and Dee might want revenge for what was done to their parents. But there are certain flaws with the film. Honestly, while Samantha Isler gives a great performance in the lead role, I just didn't find the 'modern day' stuff (in quotation marks since the film takes in 1977) to be all that interesting to be honest. It's not bad, of course, but there's no real exploration of how Jake was close to her brother. I mean, it's her brother and that should be enough to tell this story. But she is, essentially, exchanging someone else's life for her brother. The least you could have done is shown is more of their relationship and how close they were to one another. Jake is also dealing with survivor guilt, since she was supposed to jump in with her brother but didn't, and, again, they don't really do much with this. Granted, this is better explored than Jake's relationship with her brother, but it still could have been better. The best parts of the movie have to do with Jake's grandfather, Waterhouse (played by Levine) and how his actions helping Proctor (the sheriff) in 1947 led to the situation his granddaughter finds herself in in 1977. The flashbacks are the best parts of the film, I just think they reveal a very dark past for both Waterhouse and Proctor. A past that has come back to bite them and the ones they love in the ass. As I mentioned already, Ted Levine is so fucking great in this movie. He's a badass, but he's also a man who's harboring some pretty dark secrets. Secrets that have changed who he is and the type of man that he was. Levine carries the weight of his actions in his performance and, for one, thought he was just fantastic here. The rest of the cast is strong, but Levine is the real highlight of the film. One of the other things I liked about the narrative is the fact that the whole thing with the ritual and bringing Jake's brother back was more a set-up to get both Proctor and Waterhouse right where the 'villains' wanted them. It's an interesting set-up because you go into the film expecting some kind of legitimate supernatural angle. And I was pleasantly surprised when that was used as a set-up with the brothers' revenge on the people who wronged their parents. I just wish the 'modern' stuff was a little more compelling than it ended up being. But with the flashbacks, sometimes surreal visuals and Levine's excellent performance, I still believe this adds up to a good movie. It's certain flawed, but I enjoyed it for the most part. It's not gonna be everyone's cup of tea, but you can say that about any movie in existence. I'd recommend this in spite of its flaws. It's on Netflix, so there you go.
See Details