Disorder
(2006)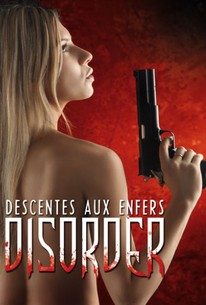 AUDIENCE SCORE
Critic Consensus: No consensus yet.
Movie Info
When David Randall was sent away for a brutal double murder, his claims of innocence and description of a masked killer went ignored. Now, accompanied by the horrific memory of that night, David, a medicated schizophrenic, has returned home, hoping for a new life. But, his attempt is failing. The deadly masked figure from David's past has returned. And, when David believes that his friend and co-worker, Melissa, is in danger, he turns to his psychiatrist and the local sheriff for help. But, their suspicions grow, fearing that David has stopped taking his medication and has slipped into a delusional state. Is David a threat to Melissa and everyone around her? Or, does the killer really exist, and is David being set up once again?
Critic Reviews for Disorder
All Critics (2) | Fresh (1) | Rotten (1)
Director Alice Winocour displayed a keen eye for female power issues in her script for the Oscar-nominated Turkish film Mustang. In Disorder, she tries to shoehorn politics into a routine genre outing, and both come up short.
Grainy black-and-white footage, captured by amateur on-the-scene videographers, has been spliced together to create a nonstop portrait of a metropolis gone berserk-a city symphony from hell.
Audience Reviews for Disorder
I only watched about half of it so far, but it was so badly done, so low-budget, the acting was atrocious, especially by the main character. His wooden acting is more wooden than some other actors who are known for it. The main villain was so unscary and just silly, wearing a kiddy rubber mask to attempt and scare the audience. Overall, this movie is so bad that it's good, but I cannot give it more than 2 stars because it just is very crap and it seems there wasn't much effort put into it. The only rather good thing is the score/soundtrack, yet I bet that was probably stolen from other horror movies.
Matthew Ashworth
Super Reviewer
Disorder Quotes
There are no approved quotes yet for this movie.