Dogville
(2003)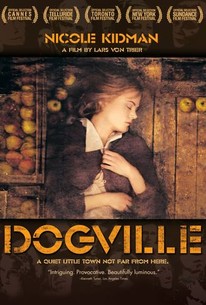 Movie Info
The beautiful fugitive, Grace, arrives in the isolated township of Dogville on the run from a team of gangsters. With some encouragement from Tom, the self-appointed town spokesman, the little community agrees to hide her and in return, Grace agrees to work for them. However, when a search sets in, the people of Dogville demand a better deal in exchange for the risk of harboring poor Grace and she learns the hard way that in this town, goodness is relative. But Grace has a secret and it is a dangerous one--so Dogville may regret it ever began to bare its sharpened teeth.
News & Interviews for Dogville
Critic Reviews for Dogville
Audience Reviews for Dogville
½
The tiny township of Dogville (population 20) reluctantly takes in a woman fleeing from gangsters, but their generosity turns into abuse as they gradually maker her into their slave. It's de Sade's "Justine" played out on the set of "Our Town." Masterful but misanthropic.
[img]http://images.rottentomatoes.com/images/user/icons/icon14.gif[/img] Dogville's depiction of detatchment, the worthlessness of the human promise, mistrust and animalistic selfishness is incredibly moving. Nicole Kidman gives a breathtaking performance as a troubled, overly sympathetic daughter of a gangster, who ends up in the hands of a seemingly morally functioning town, where eventually she gets horribly abused and mistreated by the residents. The visually alienating design featuring no environment, or in fact sets, detatches you from the story in a way which sometimes can be quite irritating. I think the film may have worked better if it was filmed traditionally with all these traits. Lars Von Trier's choice to film it this way may have been self aware and intentional, but I didn't really think it's deliberate emptiness was working. Despite that, there is so much else to admire and love about Dogville. The script is brilliantly written, the old fashioned plot is unpredictable, and it's bizzare surrealism and unrestricted brutality is shockingly awe inspiring. As a piece of experimental film making, Lars Von Trier has crafted a masterpiece. It's got a painfully silent and relatively relaxed tone to it, which uses little to no sound effects or score whatsoever. Yet remarkably it remains dramatically engaging and involving the whole way through. All the way up to the incredibly satisfying finale. Despite all that, I don't think it's Lars' best film, but in comparison to a lot of today's art house and Hollywood features it's orientation is to be massive in terms of ambition and originality. It most certainly suceeds in that, and that is just one of the many great achievements of this marvellous independently spirited film.
Directors Cat
Super Reviewer
½
This films stands as criticism to these horrible times we are living in and a clear picture that everything we do is never really good enough. This film will make viewers feel uncomfortable and many may very well disagree with the message it tries to bring forth... but whether they agree or not is not important because it is inevitably an undeniable truth about humanity and the evil we are capable of doing. The lack of scenery and theater-like view of the film is strange at first but by the time Kidman is in the picture you're no longer aware of this... and if you are you will simply see that it is all for your better enjoyment of the film. This film is not to be missed and to be watched more than once as well!!!
Dogville Quotes
| | |
| --- | --- |
| Grace: | I want to make this world a little better. |
| | |
| --- | --- |
| Tom Edison: | Maybe people just regard things a criminal because they envy their success. |
| | |
| --- | --- |
| Tom Edison: | It's quite a blow to me to see all my friends act this way--so uncivilized. |
| | |
| --- | --- |
| Liz Henson: | Honestly, Tom, you've done it again. Made us come here to listen to a lot of nonsense. Who do you think you are? Some kind of philosopher? |
| Tom Edison: | Observant, that's what I am. |
| Ma Ginger: | Lazy, I would say. |