Dolls
(2002)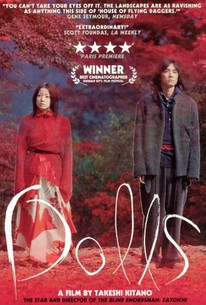 TOMATOMETER
AUDIENCE SCORE
Critic Consensus: Dolls doesn't offer easy answers, but for audiences attuned to its beguiling wavelength, writer-director Takeshi Kitano's work offers rich, distinctive rewards.
Movie Info
Master filmmaker Takeshi Kitano returns behind the camera for the first time since his indifferently received English-language effort Brother (2000) with this operatic tale of lost love. Dolls takes puppeteering as its overriding motif -- specifically, the kind practiced in Bunraku doll theater performances -- opening each section of his film with a story provided by the puppets and their masters, which relates thematically to the action provided by the live characters. Chief among those tales is the story of Matsumoto (Hidetoshi Nishijima) and Sawako (Miho Kanno), a young couple whose relationship is about to be broken apart by the former's parents, who have insisted their son take part in an arranged marriage to his boss' daughter. He initially agrees, causing the unstable Sawako to be committed to a psychiatric hospital. When he leaves his new bride at the altar to save Sawako, however, he realizes that she's so incapable of caring for herself that she needs to be tied to him with a red rope. Inextricably bound, the two wander through Japan, encountering others along the way who have similarly overlooked love for other, more fleeting pleasures: fame, power, money.
Audience Reviews for Dolls
½
When I viewed Takeshi Kitano's "Dolls" I was told I would either love or hate the film. In retrospect, neither of those emotions crossed my mind. I merely though the film was OK. I certainly enjoyed piecing together the three stories and dissecting the themes, symbolism and being taken under it's visual spell- but I couldn't help being reminded by so many other, better films. The film is about obsession (clearly taken from "Vertigo"), it deals with relationships where the couples are imploding but bound together (clearly taken from "Eyes Wide Shut"- with the same use of color and music), and it's about the emotional violence men can inflict on weak woman (clearly taken from "In the Company of Men"; "Dolls" also adopts, without the grace Neil Labute's film had, the idea that ALL women are weak, pitiful messes). "Dolls" just seemed like a rehash of better and more interesting films- granted, it has beautiful imagery, but that alone does not make a great.
Steven Carrier
Super Reviewer
½
You know usually I'm very open towards these kinds of films, what I mean by that is that I'm usually open when filmmakers try new things, to broaden their horizons, to just make a different film than what people are used to seeing from you. It's something that, I'm sure, filmmakers take great pleasure in doing as it keeps their careers from feeling stale. With that said, but I was just really bored by this movie. Plus it didn't exactly fit in with the theme of today's marathon, well it had SOME of it in there but like I said, this movie is the odd one out of the movies I picked for the marathon. But yea, I was just bored by this movie, there's like literally next-to-nothing going on here. The storylines, while interesting on paper, just don't come across that well on screen. They're not fully developed and they just come up falling short. Like what was the point of the pop-star and the blind man in the movie, it just seemed really pointless. The only real interesting story was the yakuza boss one and that had an anticlimatic ending, which makes sense considering the Boss' profession, but still anticlimactic (same as the pop-star/blind man ending). Also the fact of the matter is that the main story line, of the couple bound together was just a pace killer, literally every time they came on I would just shrug because it would literally detach me from everything else that was going on in the movie and I just couldn't care any less for these two. Sure the movie's cinematography is really impressive, but it really isn't enough to make the movie good, it's really just average at best. But that doesn't mean I wouldn't encourage Takeshi Kitano to do more movies like these, just to make sure they're interesting, because filmmakers nowadays need to take risks even if they fail, it might help revitalize their careers.
Jesse Ortega
Super Reviewer
Takeshi Kitano brings us three stories about the decisions we make that affect our whole lives. The key element here is that we sometimes make the wrong decision due to emotions involved, not to mention pressure from others, and framed as a bunraku performance, Japan's national art-form involving elaborate puppets. Dolls is Kitano's quietest and most accomplished film so far, in my humble opinion. Given the unhappy consequences for many of the love-struck protaganists, this may lead the viewer to believe that the idea of love, although lasting, is bitter-sweet as Kitano goes from making his well known violent films to one of pain involving what we do to ourselves when we take the wrong path in life. Be careful what you wish for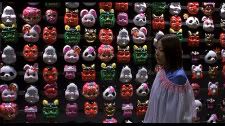 El Hombre Invisible
Super Reviewer
Dolls Quotes
There are no approved quotes yet for this movie.