Dominion: Prequel to the Exorcist
(2005)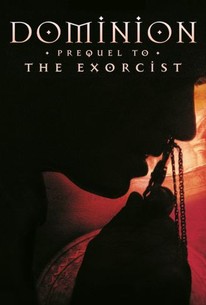 TOMATOMETER
AUDIENCE SCORE
Critic Consensus: While director Schrader's attempt at a literate, internal exposition on evil temptations and human sin is admirable, this prequel suffers from hit-and-miss psychological tension, poor visual effects, and weak writing -- an overambitious failure of a horror movie.
Dominion: Prequel to the Exorcist Photos
Movie Info
In 2003, respected filmmaker and screenwriter Paul Schrader was hired to direct a prequel to the 1973 box-office smash The Exorcist. However, when Schrader turned in his film to executives at Morgan Creek Productions, the producers felt the film was not marketable, and they opted to remake the picture with director Renny Harlin, who brought a more visually aggressive approach to the story than Schrader's more contemplative vision. In 2004, Harlin's film, Exorcist: The Beginning, was released to middling critical and financial response, while the following year, Schrader's version went into limited release following film festival screenings. In Schrader's Exorcist: The Prequel, Father Lankester Merrin, the aging exorcist from the original story (played here by Stellan Skarsgård) is introduced in 1944, as he serves a flock in Holland during the Nazi occupation. After Nazi officers force Merrin to choose ten members of his congregation for immediate execution, Merrin is left an emotionally broken man, and he takes a leave of absence from his duties. Three years later, Merrin is taking part in an archeological project in East Africa, and he and his crew -- including priest Father Francis (Gabriel Mann), Major Granville (Julian Wadham), and Rachel Lesno (Clara Bellar) -- discover that a church from the fifth century has been buried in the desert. As Merrin and his associates discover that that a porthole to evil is located in the church, Cheche (Billy Crawford), a local boy Merrin has taken under his wing, begins showing signs of having fallen under the spell of Satanic forces.
People Who Like this movie also like
News & Interviews for Dominion: Prequel to the Exorcist
Critic Reviews for Dominion: Prequel to the Exorcist
Audience Reviews for Dominion: Prequel to the Exorcist
Edward Boxler
Super Reviewer
Dominion is a genuinely interesting and ambitious film that doesn't quite make it despite being superior to Harlin's enjoyably unambitious schlocky remake. More a drama about faith than a horror film, it's not even remotely chilling and in the hands of the director of the awful Cat People remake it's attempts to throw in a few shocks (or "trying to make the cow look like a horse" as he puts it on his heavily vetted audio commentary) simply don't work any more than the crude dream imagery straight out of a 40s noir ? he's just not interested in that sort of thing. He's much better at more human acts of violence: the suicide scene is a vast improvement on the terrible version in Harlin's film without the unnecessary supernatural trappings, while a pair of apparently arbitrary murders are all the more jolting for their human origin and the rationale behind them. For all its failings, the film is far from unsalvageable, and the decision to junk it and completely reshoot it with a new script, director and, in many cases, supporting cast seems a major over-reaction. It's also surprising just how little crossover there is between the two films ? not just the respective scripts and the themes, but how little footage was pressed into service on the remake (barely two minutes, most of it establishing shots and a brief deleted scene). It's also clear that the film is still uncompleted. The cgi is terrible and all too obviously unfinished and the score suffers from being performed on synths rather than by an orchestra, which gives it a demo/temp track effect that doesn't always help the film, but the biggest problem remains the direction. While co-writer Caleb Carr's complaints about Schrader having no visual sense are frankly bizarre ? it's by far his best looking movie and certainly his most cinematic ? he's unable to rack up much tension, particularly in the finale. Much of this seems to be due to his inability to inspire his cast: with much of the film played in long takes, many of the supporting players aren't up to the script and clearly aren't getting enough help (the wildly inadequate Clara Bellar suffering more than most in the role taken by Isabella Scorupco in the remake). While there isn't a performance as bad as Alan Ford's in the Harlin version, and a couple ? particularly Julian Wadham and a superb Ralph Brown ? are actually considerably better than the remake, the moral escalation of the very well-written prologue loses much of its power due to a flat performance from Antonie Kamerling's German officer. In Schrader's hands, it doesn't matter because we don't care because the performances don't convince us that it's real. Curiously, the sequence is much better handled in the Harlin version, where it's both better staged and more effectively utilised as a recurring flashback. On the plus side, he has a much better sense of time and place than Harlin. Whereas the remake looked like a glossy modern studio picture, this does have an old National Geographic visual quality that makes it look like it was actually shot in post-war Africa. The British troops, so cartoonish second time round, are much more convincingly of their time here, adding a surprising note of authenticity. The script is fairly intelligent and ambitious on the big themes but does drop the ball on the clumsily sketched relationship between Merrin and Rachel, with the audience having to take too much on faith with no real grounds: at times it feels like the actors are still waiting for another emotional scene to be written but are completely in the dark about its content. Similarly, it doesn't always deal with the issues it raises and, as with all the Exorcist follow-ups, it falls badly in the "we need an exorcism" finale. For once the film really does need to end with an exorcism, but when it strays outside the temple the shoddy cgi Northern Lights and Bellar's looney face just render the footage laughable. However, the substance of the Satanic threat is more interesting than conjuring tricks here, emphasising the great deceiver's nature as the father of lies, tempting not by offering future riches but by erasing the mistakes of the past that cause such torment. The catalyst is once again a possessed youth, in this case a crippled albino outcast who finds himself being cured by the demon. Naturally, the young missionary immediately mistakes it for a miracle and the boy as proof of God's love, before painfully learning the error of his ways, leaving Stellan Skarsgard's disillusioned Father Merrin to exorcise the boy and confront his own more personal demons. Schrader makes less of the battleground ? an elaborate ancient church deliberately buried in Africa hundreds of years ago ? without ever making it enough of an intimate story to compensate. But when it works, it works well, and it constantly holds your interest. Not quite a failure, not quite a success but certainly worth digging up. Even if you feel like giving up on it, make sure you watch the ending, where Schrader takes his obsession with The Searchers to new heights, lifting its final shot for a wonderfully outrageous homage as Skarsgard walks out of the door in a perfect imitation of Wayne's body motion to wander forever between the winds?
Cassandra Maples
Super Reviewer
½
A classy, stylish film is what creator William Blatty said about Dominion... and it was. Welcome to East Africa, where fallen priest Lankester Merrin is conducting an archaeological dig and uncovers an old christian temple buried since the day it was erected. But he soon discovers the true purpose of the hidden church, and lets loose the evil which was buried away... which soon begins to turn the land upside down, driving animals and people insane, the results being a dying land and the death of innocents. Failing to realise the true extent of this evil before it was too late, Merrin finds the strength to confront the demon in the temple before many more are killed. Fromt he failures of the other sequels and prequel, this was a very good effort and provided the backdrop to the horror of the classic. Obviously not for the faint of heart, but this wasn't so shocking as the original, rather tame by standards, but the style and story telling was superb, and it focused well on faith and relationships as well as pitting the characters against their own personal tests of faith, and showing the horror of guilt and evil. Watch it... probably one of the better horror flicks of modern times.
Dominion: Prequel to the Exorcist Quotes
| | |
| --- | --- |
| Father Lankester Merrin: | I believed God let us decide between good and evil. I chose good. Evil happened. |
| | |
| --- | --- |
| Rachel Lesno: | Sometimes I think the best view of God is from hell. |