Shinjû: Ten no amijima (Double Suicide)
(1969)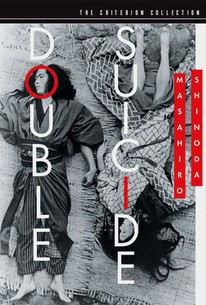 AUDIENCE SCORE
Critic Consensus: No consensus yet.
Shinjû: Ten no amijima (Double Suicide) Photos
Movie Info
A masterpiece of Japanese New Wave cinema, renowned filmmaker Masahiro Shinoda directs this brilliant modernist reworking of a famous 1720 bunraku (puppet theater) play written by Chikamatsu Monzaemon. Set in Osaka in the 18th century, the film centers on the doomed romance between Jihei (Kichiemon Nakamura), a down and out married paper merchant passionately in love with doe-eyed courtesan Koharu (Shima Iwashita), whom he cannot afford to buy out of servitude. Koharu herself has also fallen in love with Jihei; she even starts turning away other patrons to be with him. Their love is further imperiled by Tahei (Hosei Komatsu), a rich, obnoxious merchant who flaunts his ability to buy Koharu's indenture. Suicide is the only way for the two to be together. Jihei's wife Osan (also played by Iwashita) senses the couple's intent and writes Koharu a letter pleading for his life. Touched by the sincerity of the letter, Koharu feigns reservations with killing herself, prompting Jihei to tearfully renounce her. Later, as Jihei skulks about the house as his wife runs the family business, he overhears that Tahei has at last bought his former lover's contract. Knowing that Koharu would just as soon kill herself, Osan -- the ideal of the dutiful wife -- offers Jihei her kimonos to pawn to save her husband's lover. Just as everything seems to be working out for the better, Osan's misinformed father bursts in just before Jihei is about to leave. The enraged old man cannot believe that Jihei is sacrificing his family for a prostitute and drags Osan away, demanding a divorce over Osan's protestations. Later, Jihei and Koharu--together at last--steal into the night, cut their hair -- absolving them from societal obligations -- and make love all night in a graveyard before they commit double suicide. This film won the prestigious Kinema Jumpo "Number One" prize for both Best Picture and Best Actresses. ~ Jonathan Crow, Rovi
Critic Reviews for Shinjû: Ten no amijima (Double Suicide)
Audience Reviews for Shinjû: Ten no amijima (Double Suicide)
Double Suicide is a film which I do not completely understand but nonetheless rate up. I rate flat or down many other films I do not understand because they feel hollow or pretentious or have no positive qualities I can appreciate. With Double Suicide, I cannot rate it as average given the very interesting filmmaking and choreography. I expect that with better understanding of Japanese theater and with repeated viewings I would come to better appreciate the film. That said, I find the (intentional) overwrought acting with overdub sound to be grating and give Double Suicide a low four stars.
Robert Brogan
Super Reviewer
½
Adapted from an 18th century play, Masahiro Shinoda's "Double Suicide" is a classic tragedy. The story was originally written for a form of Japanese puppet theater called "bunraku," hence the opening credits roll over footage of such puppets being readied for performance. The plot is initially simple but soon turns trickier. Jihei is the struggling owner of a paper shop. He has two young children with wife Osan but unfortunately has fallen in love with Koharu, a local courtesan. (Remarkably, the same actress portrays both Osan and Koharu -- between Osan's blackened teeth and Koharu's thick geisha makeup, this detail is easy to miss.) Koharu loves Jihei too and, against all odds, the two actually have a monogamous relationship (Jihei no longer sleeps with Osan, and Koharu refuses other clients). Jihei hopes to buy Koharu's freedom but can't afford the price, and a wealthy cretin may buy her first. Meanwhile, Osan and her family naturally resent Jihei's infidelity. Will this conflict resolve happily? Re-read the film's title. The story's pull is not so much about foolish Jihei, but about the unlikely empathy between Osan and Koharu. Koharu doesn't want Osan saddled with a husband's suicide, and Osan worries about Koharu's potential misery with the unwanted rival suitor. It's an interesting angle to emphasize, given a culture where women were strictly secondary. Also interesting is how Shinoda stages the action. In typical New Wave fashion, "Doubie Suicide" continually reminds us of the film's false reality. The main set has oversized characters painted all over the floor (a purely stylistic move) and, more importantly, a variety of black-hooded figures lurk around the frame, serving as onscreen stagehands. They silently observe, supply props, rearrange sets and even assist in the climactic act of violence, but are never acknowledged by the main players. Spooky and fascinating.
Eric Broome
Super Reviewer
½
this is a mind blowing piece of surrealism. it begins in a bunraku puppet theater, transitioning to live actors, an emotionally off putting device at first. the effect is compounded by the highly stylized sets and use of ghostly kuroko, stagehands dressed entirely in black who help to advance the action while seemingly observing as helplessly as the audience. the merchant jihei's erotic obsession with a prostitute who loves him in return makes them outlaws from rigid societal norms. both his lover and long-suffering wife are played by the same actress, seemingly an archetype of woman. the scenes of the pair's final love-making in a cemetery and jihei's kuroko assisted death were very beautiful. i know it sounds pretentious and it was at first hard to adjust to but it's unlike anything i've seen before and well worth a look
Stella Dallas
Super Reviewer
Shinjû: Ten no amijima (Double Suicide) Quotes
There are no approved quotes yet for this movie.