Downloaded
(2013)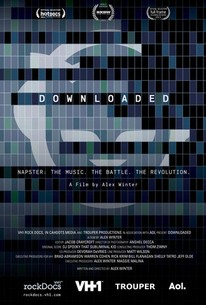 Movie Info
"Downloaded" focuses on the advent of digital media sharing, including the rise of game-changing company Napster and controversial pioneers Shawn Fanning and Sean Parker. The digital revolution ultimately created a technology paradigm shift and upended the music industry. Audiences will hear insight from well known music artists and figures within the music industry including: The Beastie Boys' Mike D, Noel Gallagher, Henry Rollins, former Sony Music Chairman, Don Ienner, former record producer and Island Records founder Chris Blackwell and Hilary Rosen, former CEO of the Recording Industry Association of America. (c) official Facebook
Critic Reviews for Downloaded
Audience Reviews for Downloaded
As with Napster itself, the film feels a little dated. Technology has moved on from that time in the late 90s/early 2000s when Napster rocked an industry. It is nonetheless well polished and interesting look at how the industry changed and was forced belatedly to adapt to new customer demands.
John Ballantine
Super Reviewer
½
Mildly interesting. I do remember Napster. I wasn't a user myself, so that's why it's not overly riveting to me. I think it would be very interesting for someone who used it regularly.
Nicki Marie
Super Reviewer
*** Here's a documentary by Alex Winter(yeah, Bill from "Bill and Ted) about the rise and fall of Napster. I'll never forget the first time I used Napster, and how it was mind-blowing to have every song you could ever want to listen to a click away. You get a good account from the people that were there, who made it and the battles they fought over it. It's very informative, but it does feel a little rushed at times. I remember seeing all the news footage from when it went on. It covers the whole Metallica thing, and how Napster eventually died off. Very interesting stuff. Also, I had no idea Sean Parker was also involved in Spotify. The guy helped start Napster, Facebook, and Spotify. That's insane. After watching it, it really made me think about how Napster honestly changed the world and the way we consume entertainment. Good movie that everyone who enjoys music on the interest should check out, especially if you don't know anything about Napster or it's impact.
Everett Johnson
Super Reviewer
Downloaded Quotes
There are no approved quotes yet for this movie.