Drive
(1998)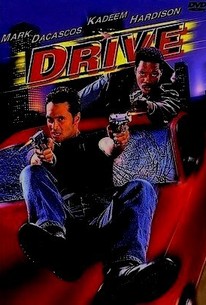 AUDIENCE SCORE
Critic Consensus: No consensus yet.
Movie Info
A prototype enhanced human,on the run from Chinese-hired hit men, hooks up with a dread-locked bystander, andthe two of them elude their pursuers narrowly each time.
Critic Reviews for Drive
There are no critic reviews yet for Drive. Keep checking Rotten Tomatoes for updates!
Audience Reviews for Drive
Hong Kong's dominance over American action filmmaking didn't stop visual effects wizard-turned-director Steve Wang from creating a film that not only matches the best modern Hong Kong martial arts productions, but surpasses many of them. In fact, it only inspired him. Beyond Wang's vision, the keys to Drive's success are two men; action director Koichi Sakamoto and martial arts star Mark Dacascos. The strengths of this film could have stopped here and the production would have remained a worthy effort, but a very solid script from Scott Phillips and excellent performances from the supporting cast. I was exciting to see Dacascos makes his incredible kicking, punching, flipping, you name it. He's got speed, power, and grace. Brittany Murphy is perfect as a bubbly brunette armed with salacious charm Deliverance Bodine who manages to pull off being humourous, immature, insane, and desirable all at the same time. and Kadeem Hardison is the film's chief comedian and delivers a regular stream of decent one-liners, mostly adlibbed. The choreography and execution of fighting is stunning, especially considering the limited time available. All of the fights are outstanding, although the motel brawl and the film's final match are extra special. This is action really done Hong Kong style, old school.
Dean McKenna
Super Reviewer
A little bit of Crank and a huge smattering of Jackie Chan, mixed with dollops of Rush Hour. Dacacscoscscos gets into fights, wins, and then the building they were fighting in explodes. Repeat until the end.
Marcus Woolcott
Super Reviewer
I thought that this movie was excellent, I watched it after a recommendation from a friend. After a slow first ten minutes when we get introduced to the main characters Toby Wong (an excellent Mark Dacascos)and Malik Brody (equally as good Kadeem Hardison) the action gets under way and doesn't stop until the closing credits. The jokes come quick and fast throughout and the film only gets better with the introduction of the fantastic but pretty unstable motel worker Deliverance Bodine (Brittany Murphy).
Cassandra Maples
Super Reviewer
Drive Quotes
There are no approved quotes yet for this movie.