The Dukes of Hazzard: The Beginning
(2007)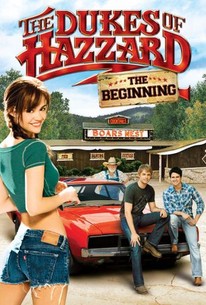 The Dukes of Hazzard: The Beginning Photos
Movie Info
Hazzard County's two rowdiest siblings are back and stirring up more mischief than ever in this prequel to the 2005 comedy adventure that explores the origins of the General Lee while finding out just how Bo (Jonathan Bennett) and Luke Duke (Randy Wayne) first incurred the wrath of bumbling greedy businessman Boss Hogg (Christopher McDonald). Hogg is set to foreclose on Uncle Jesse's (Willie Nelson) farm, and in order to save their crusty kin from financial ruin Bo and Luke agree to deliver his potent brand of moonshine to Hazzard County's thirstiest residents. Unfortunately for Bo and Luke, the nefarious Boss Hogg doesn't take kindly to the newly arrived competition. Subsequently thrown in jail and sentenced to sweat out the remainder of the summer on work detail, the crafty Duke boys enlist the aid of sexy cousin Daisy (April Scott) in outrunning the car with the star and making Boss Hogg's life unbearable through a series of outrageous schemes.
Critic Reviews for The Dukes of Hazzard: The Beginning
Audience Reviews for The Dukes of Hazzard: The Beginning
½
It was terrible but funny to watch at the same time, because the way they get the car, just made the whole movie just worth watching a second time!
This movie really didn't need to be made. It's suppose to be a prequel to the story that only ends up messing up the time line. They throw Willie and Harland in for star appeal and it doesn't exactly do anything besides show they were desperate to try and capitalize on a piece of history. It's one rude joke or innuendo after the other that never fire correctly. You are better of just re watching the previous Dukes of Hazzard movie with Johnny and Sean.
Aurelius Duchtius
Super Reviewer
Whoooo! VERY HOT AND MORE SEXY country girls than the original one I ever seen that makes me go horny. And lots of funny on spills and thrills pile up at lightning-fast speed, but interested to see how cousins Bob and Luke Duke met at Hazzard Country with their uncle and introduced to their beautiful cousin, Daisy who was still a virgin and kind of nerd country girl, just before she transformed to hottie.
Dean McKenna
Super Reviewer
The Dukes of Hazzard: The Beginning Quotes
There are no approved quotes yet for this movie.