Eat, for This is My Body (Mange, ceci est mon corps)
(2007)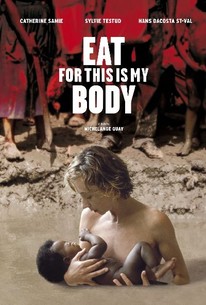 AUDIENCE SCORE
Critic Consensus: No consensus yet.
Movie Info
Michelange Quay's stunning first feature seductively begs the viewer to abandon the rules of traditional storytelling and instead embrace a poetic, cinematic language. Eat, for This Is My Body tells of the evolution of power in Quay's native Haiti and the colonial relationship between black boys and white women.

The film begins with a breathtaking aerial swoop over Haiti that seems to beckon the pain of poverty, war, and revolution to thrive and wreak havoc on the serene land. The traumatic image of a woman struggling with an enormously pregnant stomach is soothed by images of waterfalls on the tropical island. The viewer is then plunged into the thick heat of a voodoo ceremony, a beautifully quiet burial ground, and finally into the bedroom of an isolated chateau, where an elderly white woman lies on her bed, ruminating about her motherly power over black children. When a troupe of young black boys arrives at the chateau, the colonial games of sex and race begin.
There is a muscular confidence and inspired dreamlike quality to Quay's filmmaking. He evocatively blends gorgeous imagery with an infectious musical energy to create a story that is largely free of dialogue and entirely visceral in effect. Eat, for This Is My Body is sure to trigger emotions and mark your imagination in mesmerizing and unforgettable ways.--© Sundance Film Festival
Critic Reviews for Eat, for This is My Body (Mange, ceci est mon corps)
Audience Reviews for Eat, for This is My Body (Mange, ceci est mon corps)
½
[font=Century Gothic]When a director introduces his movie by inviting the audience to "turn on, tune in and drop out," you know it's going to be one of those nights. And Michelange Quay, director of his of debut feature "Eat, for This is My Body," does not disappoint. With the movie, he plays with the concept of time and space, favoring languorous panning shots for the interior of a mansion where he has slowed time down to a crawl, effectively creating an oppressive atmosphere within. Meanwhile, outside in the rest of Haiti, the country suffers from vast poverty but is bustling nonetheless. Inside, Madame(Sylvie Testud) lives with her ancient mother(Catherine Samie) who is simply wasting away. Very, very little is spoken, and the house is encased in shadows. Despite the ornate furnishings, they have nothing to feed a group of boys who visit but they eventually have cake. The other eating scene in the movie consists of Madame eating dinner on stage in front of a rapt audience.[/font] [font=Century Gothic][/font] [font=Century Gothic]And on that note, I will be out of town visiting relatives for a few days and will return to these pages on Monday, June 1.[/font]
Eat, for This is My Body (Mange, ceci est mon corps) Quotes
There are no approved quotes yet for this movie.