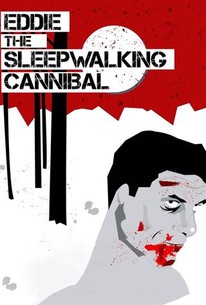 Eddie: The Sleepwalking Cannibal
2012, Horror/Comedy, 1h 23m
19 Reviews
250+ Ratings
You might also like
Where to watch
Rent/buy from $2.99
Rent/buy from $3.99
Rent/buy from $3.99
Rate And Review
Eddie: The Sleepwalking Cannibal Photos
Movie Info
A struggling, uninspired artist (Thure Lindhardt) finds a new muse in the form of a brawny mute (Dylan Smith) who devours human flesh while sleepwalking.
Audience Reviews for Eddie: The Sleepwalking Cannibal
A fun little black comedy starring Thure Lindhardt. Eddie the Sleepwalking Cannibal is about a Danish artist who was forced to take care a mentally challenged man, it turns out the man is a sleep walking cannibal. However, the killings inspires the artist to paint amazing paintings. Eddie the Sleepwalking Cannibal is quirky, gory and tons of fun. Despite having only a small budget, every cent was well spent. The performance by Lindhardt and Smith is just simply remarkable.

Eddie: The Sleepwalking Cannibal is a pretty creative low-budget comedy horror tale that relies on an interesting idea. Sometimes all you need is the basics to create a fun and entertaining g movie that is memorable and worth seeing. This is the case with this one. I found this film to be one of the most entertaining low-budget horror yarns since Rubber directed by Quentin Dupieux. Although the film could have been better than what it turned out to be, there is enough good material on-screen to make it a worthwhile viewing experience for horror fans. This is a good film with plenty of wonderful performance and despite a few lacking aspects of the film, there's always something to keep you involved, and one of the main reasons is the performance of Dylan Smith in the titular role. The film is humorous and entertaining, and this is among the better low-budget horror films in recent memory. Even with all its flaws, this is a good little flick to watch if you want something original and refreshing. The cast are good in their parts and with a strong lead in Dylan Smith; you have a well constructed movie that goes above its flaws to be a pleasant film going experience. The sheer ridiculousness's of the plot makes this a film to delight fans of the genre and it's a rare gem of a picture that uses creativity to go beyond its budgetary constraints to create something watchable and good. Director Boris Rodriguez has scored a fine little hit with this one and it's darkly humorous and has hints of old school horror with gore. This is what makes Eddie: The Sleepwalking Cannibal a fun ride from start to finish, and in a genre that remakes are dominate, a film like this is a necessity.