El Norte
(1984)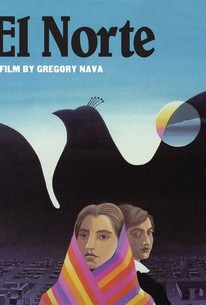 Movie Info
"When will we find a home?" Rosa asks her brother Enrique at the end of their long journey. Alone in a strange land, they have only each other. The search for roots and the importance of family inform Gregory Nava's and Anna Thomas's lyrical and emotionally powerful El Norte, just as they will the filmmakers' later My Family, which showed at Sundance in 1995. One of the first films to portray faithfully the plight of Central American political refugees, El Norte is a remarkable fusion of documentary realism and visual poetry. When their father is killed and their mother arrested by the military, Rosa and Enrique flee the coffee fields of Guatemala for el norte, a place they know only from pictures in their godmother Josefita's Better Homes and Gardens magazines. Their trip is often harrowing, taking them through the teeming squalor of Tijuana to the anonymous streets of Los Angeles, but there is time for joy and laughter, too. They learn English in a lively night school, and when Rosa is intimidated by the laundry room in the house she is cleaning at her new job, she washes the clothes by hand and spreads them on the lawn to dry as she used to do at home. Thomas's eloquently crafted characters are brought to vibrant life by Zaide Gutierrez's and David Villalpando's remarkable performances, and the authentic music and James Glennon's moody cinematography create an indelible sense of place. Roger Ebert calls El Norte a modern Grapes of Wrath, but it is also a very warm and personal story about the resilience of the human spirit and a celebration of hope that survives in the face of despair.
Critic Reviews for El Norte
Audience Reviews for El Norte
This is a story about a brother and sister who are poor in Mexico. They are Native Americans and because of this they are looked down on by most other Mexicans. After a tragedy the siblings decide to travel north to america. This not only a story about their journey, but also about what they do once in america. A great story, they just want to live their lives with out people treating them like trash. They are hear working and smart. The movie is a tear jerker, very well done and worth watching.
Robert Gates
It's predictable and heavy-handed, but the ultimate message of the oppression of the immigrant and the death of the American dream due to our corrupt capitalist system makes "El Norte" required viewing for anyone leaning towards a conservative viewpoint on immigration reform.
Reece Leonard
½
I'm sort of embarrassed that I like this so much, especially the part when it devolves into a horror story because of THE MICE OH MY GOD THE MICE, but I don't know - it's also kind of charming in its own simple way.
Jennifer Xu
Super Reviewer
El Norte Quotes
There are no approved quotes yet for this movie.
Discussion Forum
Discuss El Norte on our Movie forum!