Electrick Children
(2013)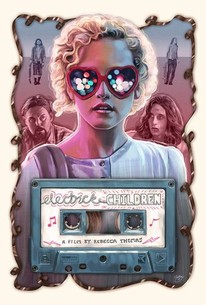 TOMATOMETER
AUDIENCE SCORE
Critic Consensus: A strong directorial debut for Rebecca Thomas, Electrick Children also features an outstanding performance from Julia Garner as a wild teenager from a conservative family.
Electrick Children Photos
Movie Info
In the debut feature from director Rebecca Thomas, ELECTRICK CHILDREN, Julia Garner (MARTHA MARCY MAY MARLENE, WE ARE WHAT WE ARE, SIN CITY: A DAME TO KILL FOR) plays Rachel, a rambunctious teenager from a fundamentalist Morman family in Utah. On Rachel's 15th birthday, she discovers a forbidden cassette tape with rock music on it. Having never heard anything like it, Rachel has a miraculous experience. Three months later, Rachel turns up pregnant and claims to have had an immaculate conception from listening to the music. Rachel's parents, (Cynthia Watros - LOST, Billy Zane - TITANIC) arrange a marriage for her, but she runs off with her brother "Mr. Will," (Liam Aiken - LEMONY SNICKET'S A SERIES OF UNFORTUNATE EVENTS) to Las Vegas, to search for the man who sings on the tape, thinking he has something to do with her mysterious pregnancy. There they meet Clyde, (Rory Culkin - SCREAM 4), a young rocker who challenges everything they've been taught and changes the way they see the world. (C) Phase 4
News & Interviews for Electrick Children
Critic Reviews for Electrick Children
Audience Reviews for Electrick Children
Interesting. Could have done without the immaculate conception (please! It was probably her step father!), but this was nicely filmed and acted. The Amish seeming upbringing and family were something different for this type of film.
Nicki Marie
Super Reviewer
½
This warped tale follows the plight of a Mormon girl looking for the chance to be free in a world that limits her by her upbringing, gender, and religion. After divine intervention forces an immaculate conception upon her, Rachel (Garner) leaves her home and journeys to Sin City to find the father of her baby, a singer on an old cassette tape. Along the way she meets other misfits and starts to find the pieces of her life's puzzle. While the story doesn't seem all that important in context, her journey to finding the one real truth is very intrinsic in value. Garner is a real up and comer and I can't wait to see what else she will work on in the future, and it's always good to see Rory Culkin in indie fare. While I didn't love the story or always connect with the characters, the way this film is shot, and the aura it has, is really entertaining to sit through.
Spencer S.
Super Reviewer
"A movie about miracles..." Electrick Children is a bizarre, but altogether really well made film. The story is original and is something you can't really put your finger on. It's puzzling, but simple. Julia Garner gives an excellent performance as the young 15 year old Mormon girl.  Electrick Children follows Rachel as she turns 15. Rachel lives in a devout Mormon family. On her 15th birthday she sneaks into the cellar and plays a tape. It's a miracle to her; music. When she doesn't get her period for a long time, she believes she has been impregnated by the music. When her parents find out she's pregnant, she is arranged to marry another Mormon boy and her brother, who they believe to have impregnated her is banished from the community. Rachel runs away before she can be married and searches for the man who sang the song that got her pregnant. Electrick Children is a film that isn't for everyone. The subject matter is at times weird, and for the whole film, pretty bizarre. If that doesn't bother you though, it's a very worthwhile film. It's beautifully shot and the innocent performance from Julia Garner is fantastic. I look forward to seeing her future performances. 
Melvin White
Super Reviewer
Electrick Children Quotes
There are no approved quotes yet for this movie.