The Element of Crime
(1984)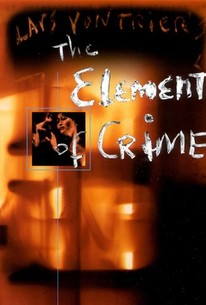 The Element of Crime Photos
Movie Info
Lars von Trier's first film, The Element of Crime, concerns police detective Fisher who seeks the help of a therapist after having an amnesic episode. Unable to recall why he returned to Egypt, Fisher begins to look for answers. He returns to Europe, where he was previously engaged investigating the Lotto Murders, to visit his mentor, Osborne. The author of The Element of Crime, Osborne advocates identifying with criminals as a means of capturing them. After a brief meeting, Fisher continues his investigation assisted by an Asian prostitute. As he undergoes the archetypal descent into the underworld, he gets dangerously close to uncovering the cause of his amnesia and the murderer. Replete with references to film noir and world cinema, The Element of Crime, depending on your view, is either a postmodern update of the crime film or a gaudy parasite on tradition.
News & Interviews for The Element of Crime
Critic Reviews for The Element of Crime
Audience Reviews for The Element of Crime
½
element of crime is one of the
Coxxie Mild Sauce
Super Reviewer
i confess the only reason i have owned this dvd was because my good friend is a big fan of lars von trier, whose "dogville" was practically his only work i had seen before this one. i was not particularly infatuated with the "unique" way dogville was made, so purposely drab in a plain playground while i wish to see trees and grass all the time, and i was not really into its overtly hostile generalization of america as an enclosed land with narrow-minded people, who ought to be torched down into death! BUT i'm really surprsied how good "element of crime" really is! i picked this one because it says it was inspired by 1930s~40s hard-boiled movies both in europe and america. but let's point out several formuli in the genre of hard-boiled detective movies (film noir) first then you would start to see the creative breakthroughs of "element of crime": the primary principle in the american detective fiction, which differentiates from british sherlock homles, is that the private dick is INVOLVED in the crimes, and he excels in his fearless actions to get inside the criminal deals. (in other words, he's not intellectually brilliant like sherlock homles, social elite who solves the cases in a detached manner through the scale of his intelligence). american detectives in hard-boiled fictions are all blue-collar tough guys who dare to expose the truth by putting himself into a series of riskes (raymond chandler's phillip marlowe; danshiell hammett's sam spade; or chinatown and dirty harry in 1970s). also, the detectives live another day just to solve another crime not because he's particularly into the course of justice. it's because he's addicted to the traces of crimes, and he takes great pleasure in following the killer's footsteps and even wriggling with the criminals through wits, and the only reason he could track down the criminal is because he personally puts himself into the shoes of the killer. in a way, he enjoys the pleasure of transgression through proxy. now let's get down to the "element of crime," which is practically a satire mocking american hard-boiled fictions. a pseudo-policeman named fisher abandons his family in cairo to arrive at europe just to solve a serial killer case. he has a specialized methodology of his own in solving the crimes, and he simply follows the code composed by his mentor osbourne, who claims the only way to solve a crime is to put yourself into the shoes of the criminal and adjusting your mind into his thinking mode, then you could foresee the next crime and catch the murderer. (sounds just like the behavioral patterns of american private dicks)..osbourne pens a book called "element of crime"..so our protagonist goes from door to door, examines the corpses, checks into the hotel in which the suspect has stayed before and even sleeps with the same prostitute the suspect has slept with he has done all these just to get into the criminal's mode of thinkings.so, could fisher really solve the crime by this hard-boiled methodology??? SPOILER: eventually fisher fails to solve the crime, and he even commits a murder in the same pattern as the murderer did. the most ironic of all is that the real murderer is his mentor who writes the book "element of crime"...after this horrid experiences, fisher escapes europe and spends most of his time consulting a shrink, haunted and tormented by these nightmarish memories. lars von trier's "element of crime" is a comment on american hard-boiled dectective fictions as well as american film noir in 1940s or the retro-noir in 1970s (chinatown, the long goodbye. dirty harry). its message shall be: it is sheer anarchy in great futility to even think of the possibility that individual effect could reform the society or serve the justice or make any impact on the vile system, and inevitably you're doomed to get contamined. after all, real person ain't like clint eastwood or humprey bogart, the american commoner's hero who is incorruptible within seedy surroundings. (he dismisses as gullible naivete)..of course, he also barrows this criticism on american culture to sneer at european bucreacracy since "element of crime" is the first of his triology on europe. (the second one is epidemic, then the third one is europa).
Veronique Kwak
Super Reviewer
½
Whoo, what a slog. I love that Lars von Trier has the potential to make such challenging work, and I found The Element of Crime to be wholly compelling, but its total inscrutability and unwillingness to give its audience any sort of satisfaction makes it a harsh viewing experience. Its immediate rejection of any sort of cinematic benchmarks, such as three-act structure, ending the movie even remotely conclusively, and even the post-production sound dub, make this an intrinsically unsatisfying experience. Essentially, The Element of Crime must be assessed with an eye on the man behind the camera - what is von Trier trying to accomplish here? It's obviously the groundwork for his "E" trilogy, an examination of the failures of Europe; this paints the continent as a waterlogged, barely functional dystopia, oppressive both in aesthetic (the incessant red tinting) and nature. Thematically, it sports the moral ambiguity of a film noir and synthesizes it with an almost post-apocalyptic sense of resignation and defeat. The movie's a downer, no questions asked. It's also a great companion piece to Irreversible, and I guess Enter the Void by proxy. They are both very simple stories told in convoluted ways that draw attention to the nature of the media, rather than the content therein. Ninety minute stories told backwards and without any sort of cutting, or within a hypnotic red-hued dream where nothing makes sense: there's no way that these narratives could NOT be films. Thus, what I admire most about The Element of Crime is its intrinsic respect for the cinema, as it crafts a story so wonderfully synthesized for how it's designed to be shown, even if that story confuses and frustrates us. So no, I really didn't ENJOY the movie, but I was intrigued by it, and I feel that at the end of the day it broadened my concept of the form. That in itself is highly valuable.
Drew Smith
Super Reviewer
The Element of Crime Quotes
There are no approved quotes yet for this movie.