EMO the Musical
(2016)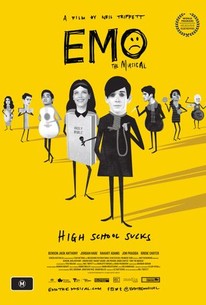 Movie Info
Based on the 2014 Berlinale award winning short film, EMO the Musical is a feature length irreverent and satirical high school musical, due for release in 2016. emo [ i mṓ ] An entire subculture of people (usually angsty teens) with a fake personality. Emo Ethan has just been expelled from private-school after attempting suicide in the courtyard. On his first day at his new school - the dilapidated Seymour High - he meets Trinity, a totally naive but cute Christian girl who is desperate to convert him to Jesus. But joining the Christian evangelists is the last thing on Ethan's mind. What he really wants is to join the school alternative rock band 'Worst Day Ever' and to be part of the Emo clique, led by the enigmatic and dangerous Bradley. After a successful audition Ethan is welcomed into the Emo world and embraces his image - complete with black eye-liner and coupled up with a violently possessive girlfriend, Roz. But Ethan can't stop thinking about Trinity, who is herself stuck in a restrictive world of dogma and denial, and they secretly fall in love. With the looming annual State School Rock Competition bringing tensions in the school to an all time high, and with the burgeoning turf war between the Christians and the Emos set to explode at any moment, Ethan is forced to confront the harebrained actions of his friends and question who he has become.
Critic Reviews for EMO the Musical
Audience Reviews for EMO the Musical
½
It's an interesting concept that works for the better part but it never delivers that slam-dunk film that it aspires to be. The talent is here to launch onto the next film and this a very nice surprise for the indie Australian market. The cast is very talented and the writing is sharp, plus very quirky and funny. The only real issue I had with the film is the overall storyline that spends way too much time setting up the corny conclusion to really sit down and get to the core of these characters. The film has a much better setup than the delivery and while the direction is strong, you can feel the shift towards a generic ending. The film should of stuck to a more out there storyline and twisted the narrative around with the odd characters. I'm not entirely sure who the film was being targeted for as the rating is a little high for the younger crowd. A good film that could have been great if it stuck with it independent style. 19-01-2017.
Brendan Nicholls
Super Reviewer
Upon watching 'EMO the musical', I felt like I was watching a parody of both high school dramas and modern musicals and that's exactly what I got, a laugh out loud feel good Australian comedy musical. Featuring a whole loud of unknown talents and plenty of good songs and music, as well as a unique sense of humour hitting their marks when I almost expected not to. Writer/Director; Neil Triffett has done an uncommon practice of taking usual genre tropes and giving it an unusual spin to please audiences expectations if not surprise them to make them laugh or smile. I don't think this film offends any social groups but in a way embraces them as it does make a clever joke. The story is about that of finding one's individual strengths than being forced into a social group or habitual category of people we often see in all high school dramas. Overall, I had a great time with this film, and would easily enough recommend it to the wider Australian public to go and watch.
Luke Eberhardt
Super Reviewer
EMO the Musical Quotes
There are no approved quotes yet for this movie.